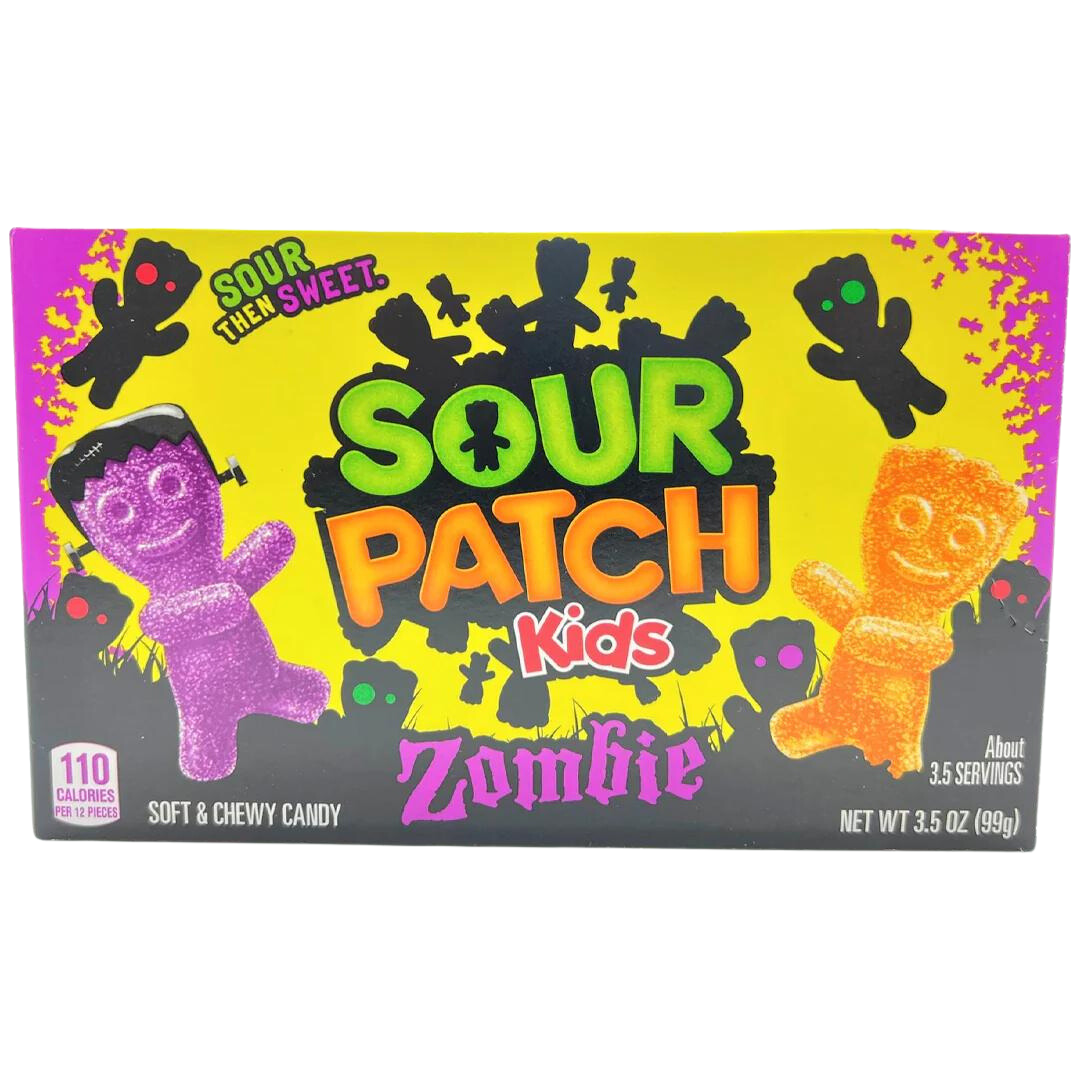 Sour Patch Kids Zombies
---
In stock, ready to ship

Inventory on the way
Get ready for a spooktacular taste adventure with Sour Patch Kids Zombie Theater Box! These mischievous little gummies have risen from the grave to bring you a sour, sweet, and chewy experience like no other. Perfect for movie nights, Halloween parties, or anytime you crave a thrilling flavor sensation.
Here's Why You Will Love This:
👻 Creepily Delicious: These gummies are like no other – they start with a lip-puckering sour punch and finish with a delightful sweetness. It's a rollercoaster of flavors in every bite!
🎃 Movie Night Must-Have: Planning a scary movie marathon? Sour Patch Kids Zombie Theater Box is your ideal companion. Enjoy the perfect balance of sweet and sour as you binge-watch your favorite films.
🧟 Spooky Fun: Embrace the Halloween spirit all year round with these adorably eerie gummies. They make fantastic treats for trick-or-treaters or party favors that'll leave your guests screaming for more.
🍬 Chewy Bliss: Each piece is soft, chewy, and packed with flavor. It's the kind of candy that keeps your taste buds guessing with every bite.
👹 Share the Haunting: Don't keep all the fun to yourself. Share the sour and sweet scares with friends and family, and watch their faces light up with delight.
📦 Convenient Packaging: The theater box is not just for theaters. It's the perfect size for snacking on the go, so you can enjoy the thrilling taste of Sour Patch Kids wherever you wander.
💀 Collector's Item: The zombie-themed packaging is not only spooky but also a fun collectible for candy enthusiasts and horror fans alike.
🚀 Unleash the Sour Power: These gummies are known for their irresistible sour kick. If you're a sour candy aficionado, this is your ticket to sour paradise.
Sour Patch Kids Zombie Theater Box is not your ordinary candy – it's a taste adventure that'll keep you coming back for more. Whether you're a fan of spine-tingling sourness or simply love a good chew, these gummies are sure to become your favorite guilty pleasure. Embrace the spooky, embrace the sour, and grab your box today!
To Canada:
Free - Orders over $175
$15 - Order $0-99.99
$7.50 - Order $100-174.99