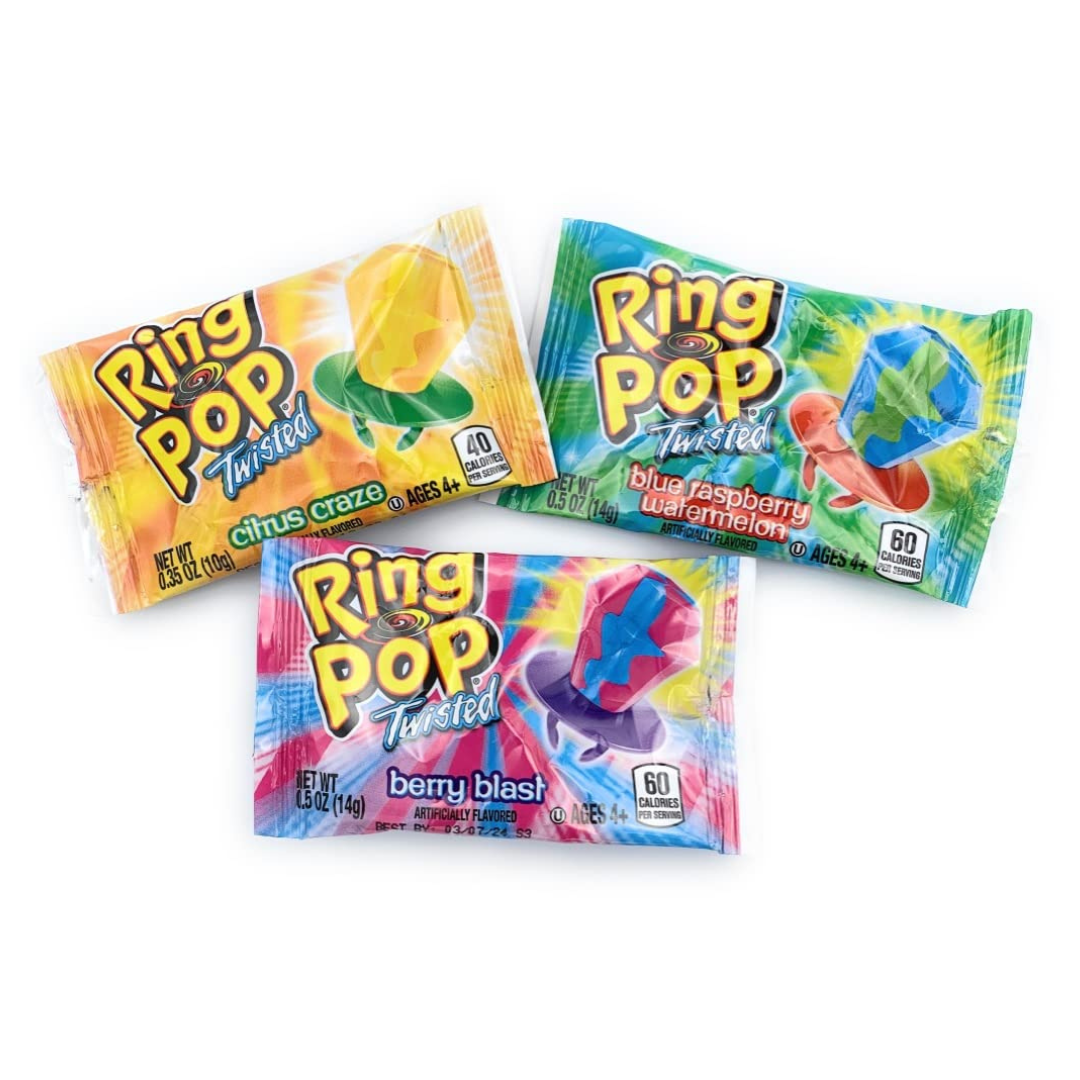 Ring Pop Twisted
---
In stock, ready to ship

Inventory on the way
Introducing Ring Pop Twisted: A Delightful Confectionery Creation!
At our website, we proudly present the enchanting and irresistible Ring Pop Twisted—a delightful twist on the classic candy favorite that is sure to captivate both young and young-at-heart candy enthusiasts. As you embark on a journey of delectable flavors and vibrant colors, allow us to guide you through the enchanting world of Ring Pop Twisted.
Unveiling a Mesmerizing Fusion of Flavors:
Ring Pop Twisted is a true symphony of taste, carefully crafted to ignite your taste buds with every lick. With a blend of tantalizing flavors seamlessly intertwined, these vibrant candy rings offer an experience that transcends the ordinary. Indulge in the harmonious collision of fruitiness, sweetness, and a touch of tanginess, as each flavor intertwines to create an explosion of taste sensations.
A Kaleidoscope of Luscious Colors:
Prepare to be mesmerized by the rainbow of captivating hues that adorn each Ring Pop Twisted. From vivid purples and radiant pinks to sunny yellows and electric blues, these eye-catching gems will add a vibrant touch to any occasion. Whether you're looking to add a pop of color to a party, wedding, or simply want to brighten up your day, our Ring Pop Twisted will never fail to delight.
Unmatched Convenience and Fun:
Embrace the hassle-free enjoyment of Ring Pop Twisted as you slip the candy ring onto your finger, ready to embark on an adventure of sweet delights. With its unique design, these playful treats offer a hands-free snacking experience, allowing you to savor each moment while keeping your hands free for other activities. Ideal for on-the-go indulgence or sharing with friends, Ring Pop Twisted guarantees convenience without compromising on the fun factor.
Quality You Can Trust:
At our website, we take pride in delivering products of the utmost quality, and Ring Pop Twisted is no exception. Our candy rings are made with care using premium ingredients to ensure a superior taste experience. Moreover, they are individually wrapped to maintain freshness, making them the perfect treat to enjoy at any time, anywhere.
Join the Ring Pop Twisted Craze:
Embrace the joy of Ring Pop Twisted and unlock a world of fruity flavor and whimsical fun. Whether you're a candy aficionado, party planner, or simply seeking a nostalgic treat, these twisted delights are guaranteed to bring smiles to faces of all ages. Order your Ring Pop Twisted today and embark on a deliciously twisted adventure that will leave you craving for more!
To Canada:
Free - Orders over $175
$15 - Order $0-99.99
$7.50 - Order $100-174.99