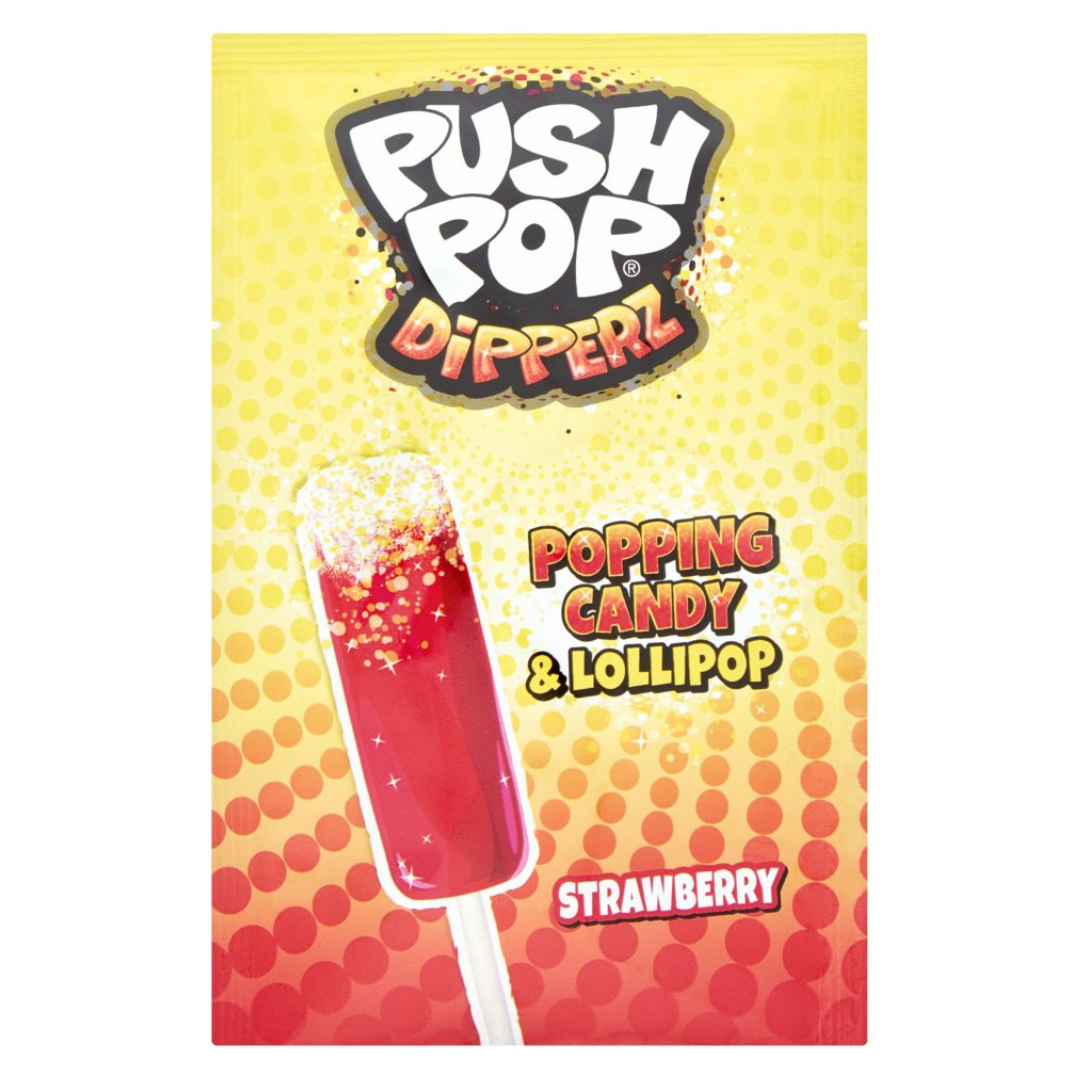 Push Pop Dipperz
---
In stock, ready to ship

Inventory on the way
Introducing Push Pop Dipperz: A Dip and Lick Sensation!
Get ready for a new level of interactive candy enjoyment with Push Pop Dipperz! These innovative treats combine the fun of a push-up lollipop with a delicious dipping experience, creating a tasty adventure that you won't be able to resist.
Push Pop Dipperz are designed to take your taste buds on a flavor-filled journey. Each package contains a push-up lollipop with a tantalizing flavor and a separate compartment filled with a creamy and delectable dipping sauce. With flavors like tangy strawberry, zesty blue raspberry, or creamy vanilla, these treats offer a variety of options to suit your taste preferences.
Here's where the fun really begins: Twist, push, and reveal the lollipop, and dip it into the rich and velvety sauce. Coat the lollipop with the sweet and creamy goodness, creating a perfect harmony of flavors in every bite. The combination of the lollipop's fruity or vanilla taste and the complementary dip creates an explosion of flavor that will have you reaching for more.
Push Pop Dipperz are not only delicious but also highly portable and convenient. Each package comes with a cap that allows you to enjoy the treat on-the-go or save it for later. Whether you're heading to school, going on a trip, or simply craving a sweet indulgence, Push Pop Dipperz are the perfect treat to satisfy your cravings.
These candy delights are also a hit at parties, events, or gatherings. Their colorful and interactive nature adds a playful touch to any occasion. Plus, they offer a unique and engaging experience that will have your guests talking and enjoying every dip and lick.
If you're looking for a candy that goes beyond ordinary lollipops and provides an interactive twist, Push Pop Dipperz are a must-try. Their combination of flavors, creamy dipping sauces, and the joy of dipping and licking make them a hit among candy enthusiasts of all ages.
So, embrace the dip and lick sensation with Push Pop Dipperz. Indulge in the delightful fusion of flavors that awaits you in every bite. Experience the fun and deliciousness that these interactive candies bring to your taste buds. Try them today and discover the joy of dipping, licking, and savoring the delightful taste adventure!
To Canada:
Free - Orders over $175
$15 - Order $0-99.99
$7.50 - Order $100-174.99