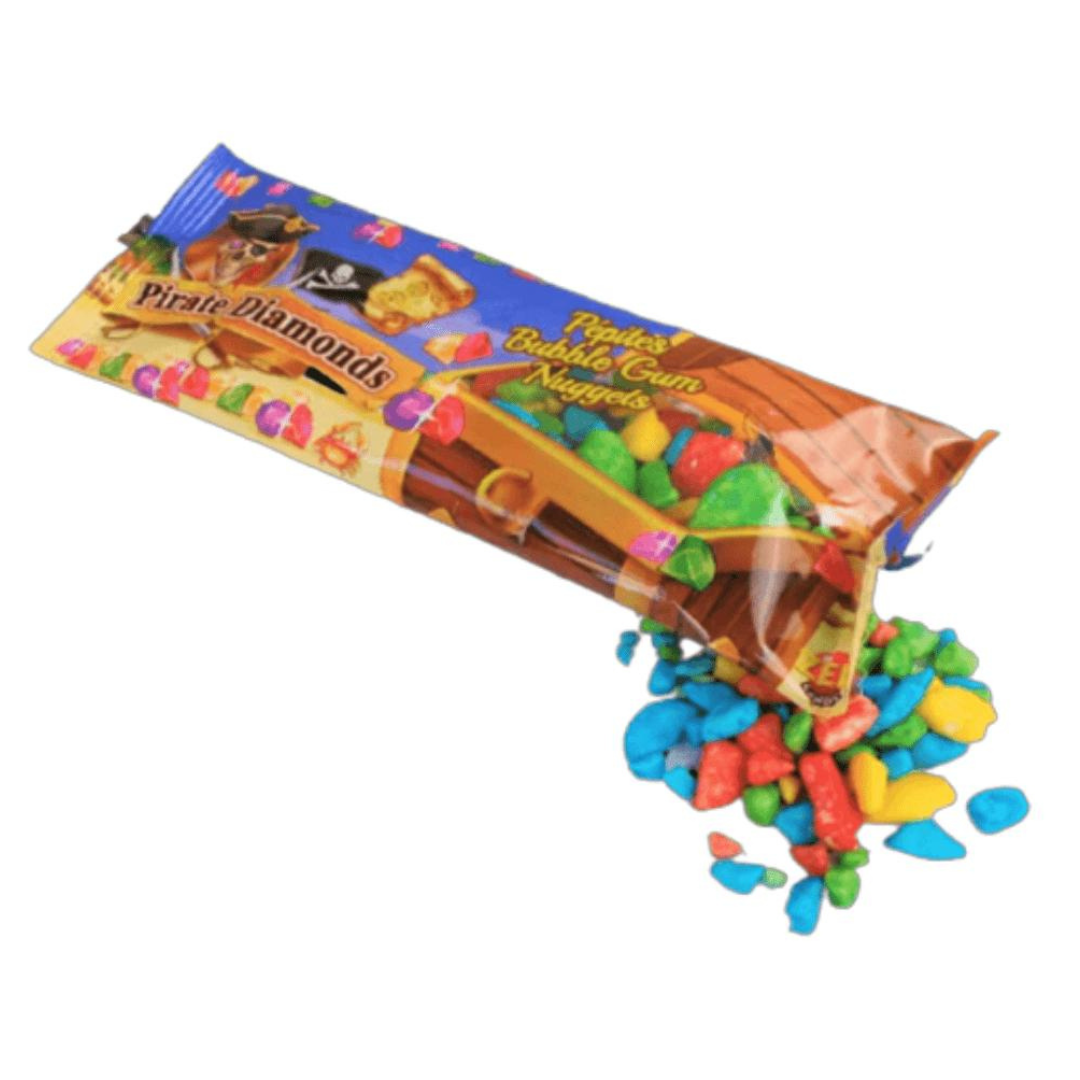 Pirate Diamonds Bubble Gum Nuggets
---
Low stock - 1 item left

Inventory on the way
Zed Candy Pirate Diamonds Bubble Gum Nuggets are a delightful and playful twist on traditional bubble gum. These chewy treats not only offer a long-lasting bubble gum experience but also come in the shape of dazzling pirate diamonds, adding a touch of adventure to your snacking.
Each Pirate Diamonds Bubble Gum Nugget is small and diamond-shaped, resembling a precious gem. Their colorful and shiny appearance adds a fun and eye-catching element to the candy, making it visually appealing for both kids and adults.
When you pop one of these nuggets into your mouth, you'll discover a burst of fruity flavor. The bubble gum offers a variety of delicious tastes, such as strawberry, watermelon, blueberry, and more. The flavors are vibrant and enjoyable, ensuring a satisfying and tasty chewing experience.
The chewy texture of the bubble gum allows you to savor the flavors and enjoy the long-lasting chewing process. As you chew, you can blow bubbles, adding an element of entertainment to your snacking. The Pirate Diamonds Bubble Gum Nuggets are perfect for indulging in a bit of nostalgia or having some fun with friends.
These bubble gum nuggets are conveniently packaged, making them easy to carry and share. Whether you're looking for a sweet treat on the go or planning a pirate-themed party, the Pirate Diamonds Bubble Gum Nuggets are a fantastic choice.
So, set sail on a flavorful adventure with Zed Candy Pirate Diamonds Bubble Gum Nuggets. Let the fruity flavors and playful diamond shape bring out the inner pirate in you as you enjoy the long-lasting bubble gum goodness. Grab a bag of these tasty nuggets and embark on a swashbuckling journey of chewing delight.
To Canada:
Free - Orders over $175
$15 - Order $0-99.99
$7.50 - Order $100-174.99