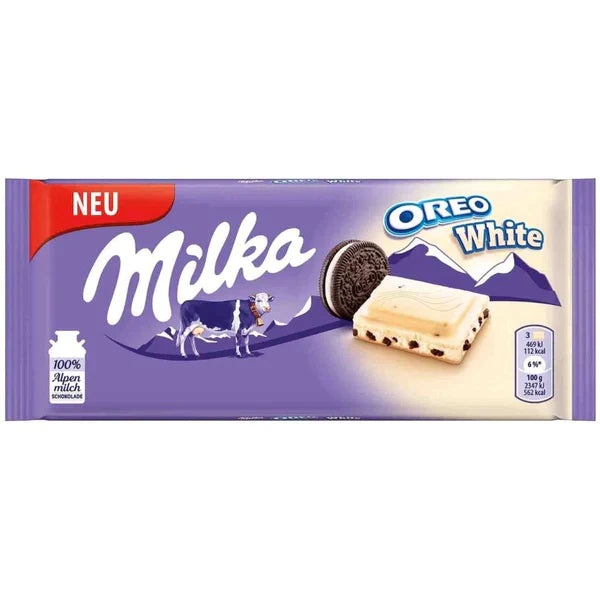 Milka White Oreo
---
In stock, ready to ship

Inventory on the way
Creamy White Chocolate: The chocolate bar is made from premium quality white chocolate, known for its rich and creamy texture. It melts smoothly in your mouth, offering a luscious and indulgent experience.

Oreo Cookie Pieces: Embedded within the white chocolate are small, crushed pieces of Oreo cookies. These cookie bits provide a delightful crunch and add a distinct cocoa flavor to the overall taste.

Iconic Oreo Taste: Oreo cookies are known and loved worldwide for their unique blend of sweetness and cocoa goodness. In Milka White Oreo, the inclusion of Oreo cookie pieces ensures that you get to enjoy that familiar and beloved Oreo taste in each bite.

High-Quality Ingredients: Milka is known for its commitment to using high-quality ingredients, and the White Oreo variant is no exception. The white chocolate is carefully crafted to ensure a smooth and velvety texture, while the Oreo cookie pieces are made with the same attention to detail to retain their signature taste and crunch.

Versatile Enjoyment: Milka White Oreo can be enjoyed in various ways. You can savor it on its own by breaking off a piece and letting it melt in your mouth. It's also a popular choice for baking, where you can incorporate it into your favorite desserts, such as cookies, brownies, or cakes, to add a delightful twist.

Packaging and Availability: Milka White Oreo is typically available in a rectangular chocolate bar format, packaged in a distinctive Milka purple wrapping with the iconic Oreo logo prominently displayed. It can be found in the chocolate aisle of most supermarkets, convenience stores, or specialty candy stores.
Milka White Oreo offers a delightful combination of creamy white chocolate and crunchy Oreo cookies, making it a beloved treat for chocolate enthusiasts looking for a unique and indulgent flavor experience.
To Canada:
Free - Orders over $175
$15 - Order $0-99.99
$7.50 - Order $100-174.99