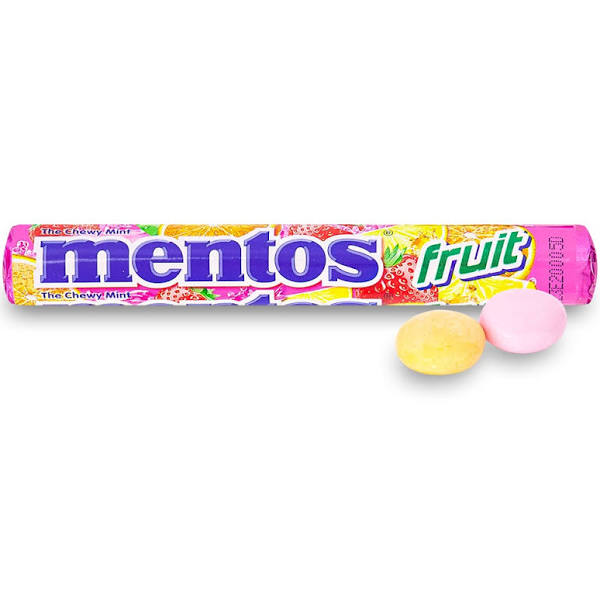 Mentos Fruit
---
Low stock - 1 item left

Inventory on the way
Mentos Fruit is a variant of the popular Mentos candy known for its refreshing taste and fruity flavors. It is a type of chewy candy with a hard shell and a soft, chewy center.
Mentos Fruit comes in the form of small, round candies, each measuring about the size of a marble. These candies are individually wrapped in colorful and shiny wrappers, making them visually appealing.
The candy shell of Mentos Fruit is smooth and crunchy, providing a satisfying initial bite. Once you bite through the shell, you reach the soft and chewy center, which is bursting with fruity flavors. The flavors are typically a mix of various fruits, such as strawberry, orange, lemon, watermelon, and grape, among others. Each flavor is distinct and offers a tangy and sweet taste that is enjoyable to chew on.
One of the notable characteristics of Mentos Fruit is its effervescence. When you chew on a Mentos Fruit candy, you may experience a slight fizzy sensation on your tongue. This effervescence adds a unique and refreshing element to the candy, enhancing the overall taste experience.
Mentos Fruit is often enjoyed as a standalone treat or used as a breath freshener due to its mint-free formula. The small, individually wrapped candies make them convenient for on-the-go snacking, allowing you to enjoy a burst of fruity flavor whenever and wherever you like.
Overall, Mentos Fruit offers a combination of crunchy candy shell, chewy center, and fruity flavors, creating a delightful and refreshing candy experience. Whether you're a fan of fruity candies or seeking a quick pick-me-up, Mentos Fruit is a popular choice that satisfies both the taste buds and the desire for a refreshing sensation.
To Canada:
Free - Orders over $175
$15 - Order $0-99.99
$7.50 - Order $100-174.99