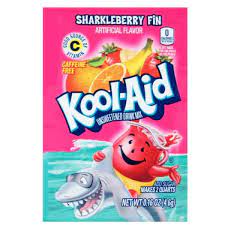 Kool-Aid Sharkleberry Fin
---
In stock, ready to ship

Inventory on the way
Introducing Kool-Aid Sharkleberry Fin: A Splash of Exhilarating Flavors!
Dive into a world of refreshing tastes with Kool-Aid Sharkleberry Fin, a captivating and vibrant beverage that will make your taste buds dance! Bursting with a blend of fruity flavors, this unique concoction is the perfect companion for any adventure.
Kool-Aid Sharkleberry Fin combines the tangy sweetness of strawberries, the tropical essence of pineapple, and the zesty kick of citrus fruits. The result is a tantalizing fusion that is sure to quench your thirst and leave you craving more.
Imagine taking a sip and being transported to an underwater paradise, surrounded by playful sharks and colorful marine life. With its eye-catching deep pink hue, Kool-Aid Sharkleberry Fin captures the essence of fun and excitement in every glass.
Whether you're hosting a summer party, lounging by the pool, or simply seeking a delightful thirst-quencher, Kool-Aid Sharkleberry Fin is the ideal choice. Its bold flavors and vibrant personality are bound to make a splash at any gathering, leaving your guests wanting to discover the hidden treasures of this tantalizing drink.
Don't miss out on this unique flavor experience! Grab a bottle of Kool-Aid Sharkleberry Fin today and let the fruity frenzy take you on an unforgettable journey. It's time to make a splash with the ultimate beverage that combines adventure, flavor, and fun all in one delightful package.
To Canada:
Free - Orders over $175
$15 - Order $0-99.99
$7.50 - Order $100-174.99