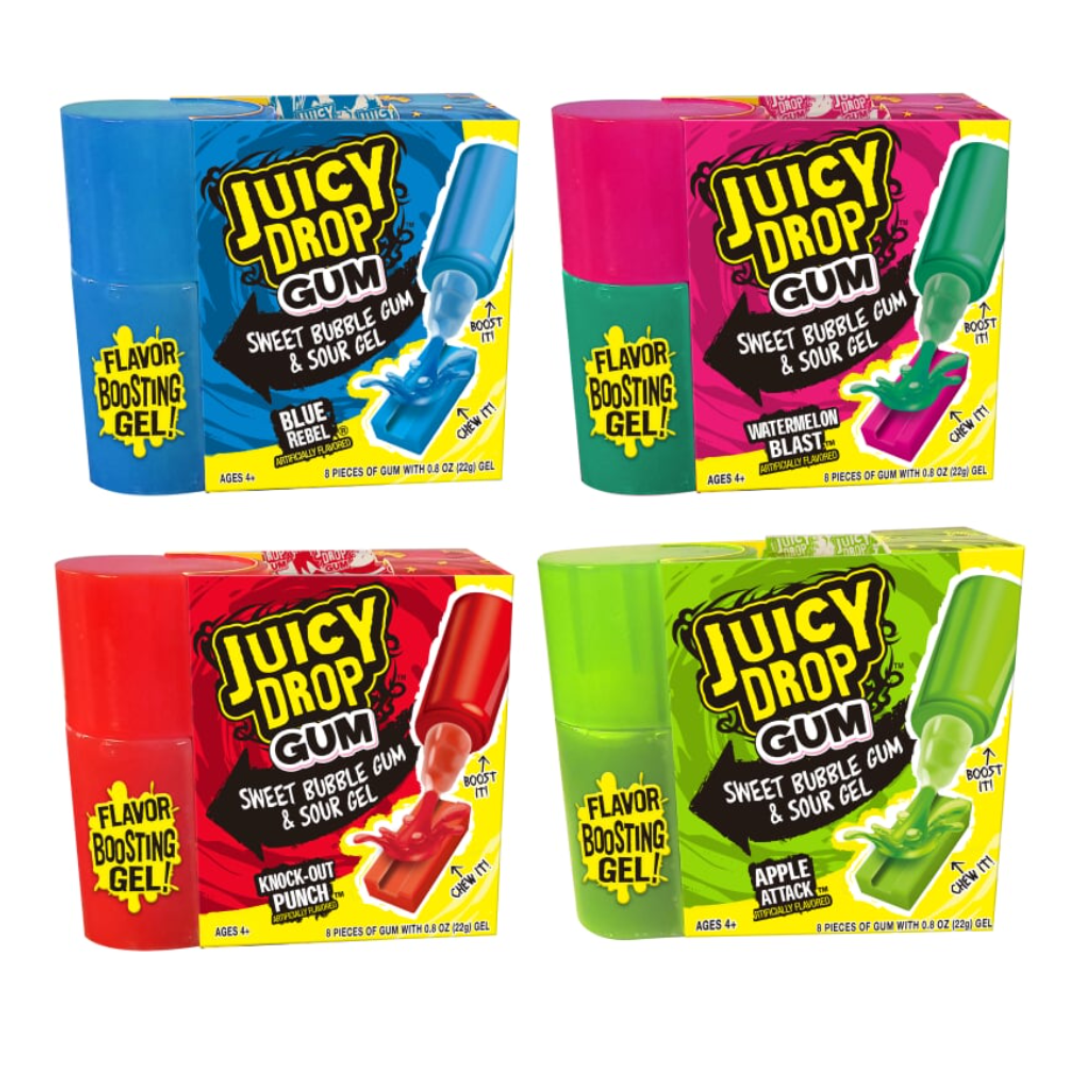 Juicy Drop Gum
---
In stock, ready to ship

Inventory on the way
Introducing Juicy Drop Gum: The Ultimate Flavor-Boosting Experience!
Get ready for a gum-chewing adventure like no other with Juicy Drop Gum! This innovative and mouthwatering gum takes your taste buds on a flavor-filled journey, offering an exciting twist to your chewing experience.
Juicy Drop Gum combines the classic enjoyment of chewing gum with a burst of intense flavor. Each piece of gum is infused with a deliciously fruity flavor that will have your taste buds dancing with delight. Whether you crave the tangy punch of sour apple, the juicy sweetness of watermelon, or the refreshing burst of blue raspberry, Juicy Drop Gum has a flavor to satisfy every craving.
But here's where Juicy Drop Gum truly stands out: it comes with a unique flavor-boosting feature. Attached to each pack of gum is a bottle of mouthwatering flavor gel. Simply squeeze a few drops of the flavor gel onto the gum, and experience an explosion of even more intense flavor! It's a customizable experience that allows you to control the level of flavor intensity to suit your preferences.
Not only does Juicy Drop Gum deliver an incredible taste experience, but it also offers long-lasting freshness. Each piece of gum is designed to maintain its chewiness for an extended period, ensuring that you can savor the flavor and enjoy the gum's texture for longer.
Juicy Drop Gum is perfect for on-the-go enjoyment, whether you're at school, work, or simply out and about. The convenient packaging makes it easy to carry in your pocket, purse, or backpack, so you can enjoy a burst of flavor anytime, anywhere.
So, why settle for ordinary gum when you can have an extraordinary flavor adventure with Juicy Drop Gum? Try it today and discover a whole new level of gum-chewing excitement. Elevate your taste buds to new heights and experience the irresistible combination of chewing gum and flavor gel that Juicy Drop Gum has to offer.
Get ready to enhance your gum-chewing experience with Juicy Drop Gum—your passport to a world of intense and customizable flavor sensations!
To Canada:
Free - Orders over $175
$15 - Order $0-99.99
$7.50 - Order $100-174.99