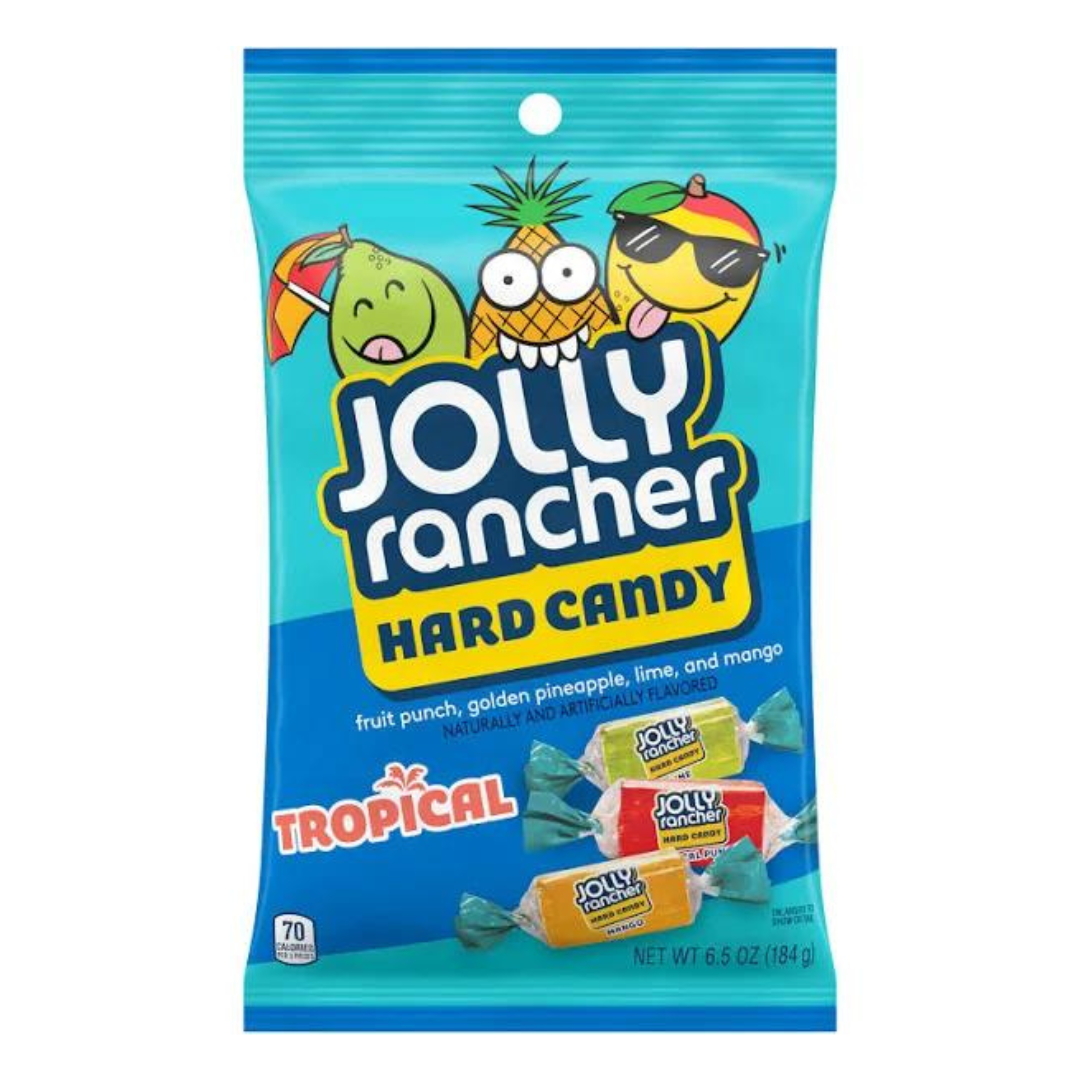 Jolly Rancher Tropical
---
In stock, ready to ship

Inventory on the way
Introducing Jolly Rancher Tropical Hard Candy – an exquisite blend of fruity flavors that will transport your taste buds to a tropical paradise! Bursting with vibrant colors and irresistible tastes, these candies are a must-have for candy lovers seeking a refreshing twist.
Jolly Rancher Tropical Hard Candy offers a delightful assortment of flavors inspired by the exotic fruits of the tropics. Each piece is meticulously crafted to deliver an explosion of tropical goodness in every bite. Here's what makes these candies truly special:
Tropical Flavor Medley: Indulge in a symphony of tropical flavors that will tantalize your senses. From tangy pineapple and juicy mango to zesty passion fruit and luscious guava, this assortment has it all. Let the taste of the tropics transport you to a sun-soaked beach.

Intense Fruit Taste: Jolly Rancher is renowned for its bold and intense fruit flavors, and the tropical variety lives up to this reputation. Each candy is packed with the authentic taste of real fruits, providing an intense burst of flavor that will leave you craving more.

Long-Lasting Hard Candy: Enjoy the satisfying crunch of these hard candies that dissolve slowly, allowing you to savor the tropical goodness for longer. Whether you prefer to savor them slowly or enjoy them all at once, these candies deliver a delightful experience.

Eye-Catching Colors: Jolly Rancher Tropical Hard Candy comes in a vibrant array of colors, reminiscent of the stunning hues found in tropical landscapes. The vivid packaging and candies will capture attention and add a pop of color to your candy display.

Versatile Treat: These candies are perfect for various occasions. Whether you're looking to satisfy your own sweet tooth, stock up for a tropical-themed party, or create eye-catching candy arrangements, Jolly Rancher Tropical Hard Candy is a versatile treat that will delight candy enthusiasts of all ages.

Resealable Packaging: The candies are conveniently packaged in a resealable bag, ensuring that their freshness and flavor are preserved for longer. You can enjoy them on the go, share them with friends, or keep them for later without worrying about their quality.

Trusted Brand: Jolly Rancher has been a beloved candy brand for generations, known for its commitment to quality and unforgettable taste. With the tropical variety, they have expanded their offerings, bringing the allure of the tropics to candy lovers worldwide.
Make your candy display stand out with Jolly Rancher Tropical Hard Candy. These irresistible treats will add a touch of paradise to any occasion, leaving a lasting impression on customers. Don't miss the opportunity to offer your customers a taste of the tropics with Jolly Rancher Tropical Hard Candy!
To Canada:
Free - Orders over $175
$15 - Order $0-99.99
$7.50 - Order $100-174.99