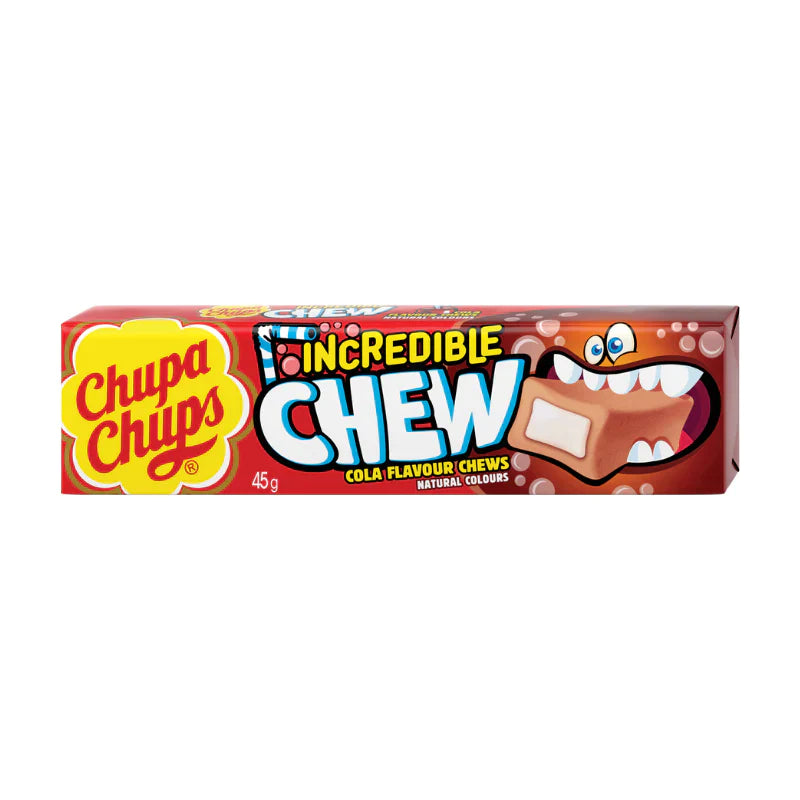 Incredible Chew - Cola Flavour
---
Low stock - 1 item left

Inventory on the way
Incredible Chews Cola Flavor by Chupa Chups are a type of chewy candy known for their cola taste and enjoyable texture. Produced by Chupa Chups, a renowned confectionery brand, these candies offer a unique cola-flavored experience.
The Incredible Chews Cola candies come individually wrapped in colorful and playful packaging, featuring the Chupa Chups logo and other appealing designs. These wrappers help to keep the candies fresh and make them convenient for on-the-go snacking.
The candy itself has a chewy texture that offers a satisfying and prolonged chewing experience. It provides a balance between being soft and pliable, making it enjoyable to bite into and chew. The chewiness of the candy allows you to savor the cola flavor while experiencing a pleasant mouthfeel.
As the name suggests, the primary flavor of Incredible Chews Cola is cola. The candies deliver an authentic and recognizable cola taste, reminiscent of the popular carbonated beverage. The flavor is often sweet with a hint of tanginess, capturing the essence of a fizzy cola drink in a chewy candy form.
Incredible Chews Cola by Chupa Chups are often enjoyed as a nostalgic treat or a snack to satisfy cola cravings. Whether you're a fan of cola-flavored candies or seeking a unique twist on a classic flavor, these chews provide a delightful and enjoyable candy experience.
Overall, Incredible Chews Cola by Chupa Chups combine the chewy texture with the classic cola taste, allowing you to enjoy the flavor in a fun and convenient candy format.
To Canada:
Free - Orders over $175
$15 - Order $0-99.99
$7.50 - Order $100-174.99