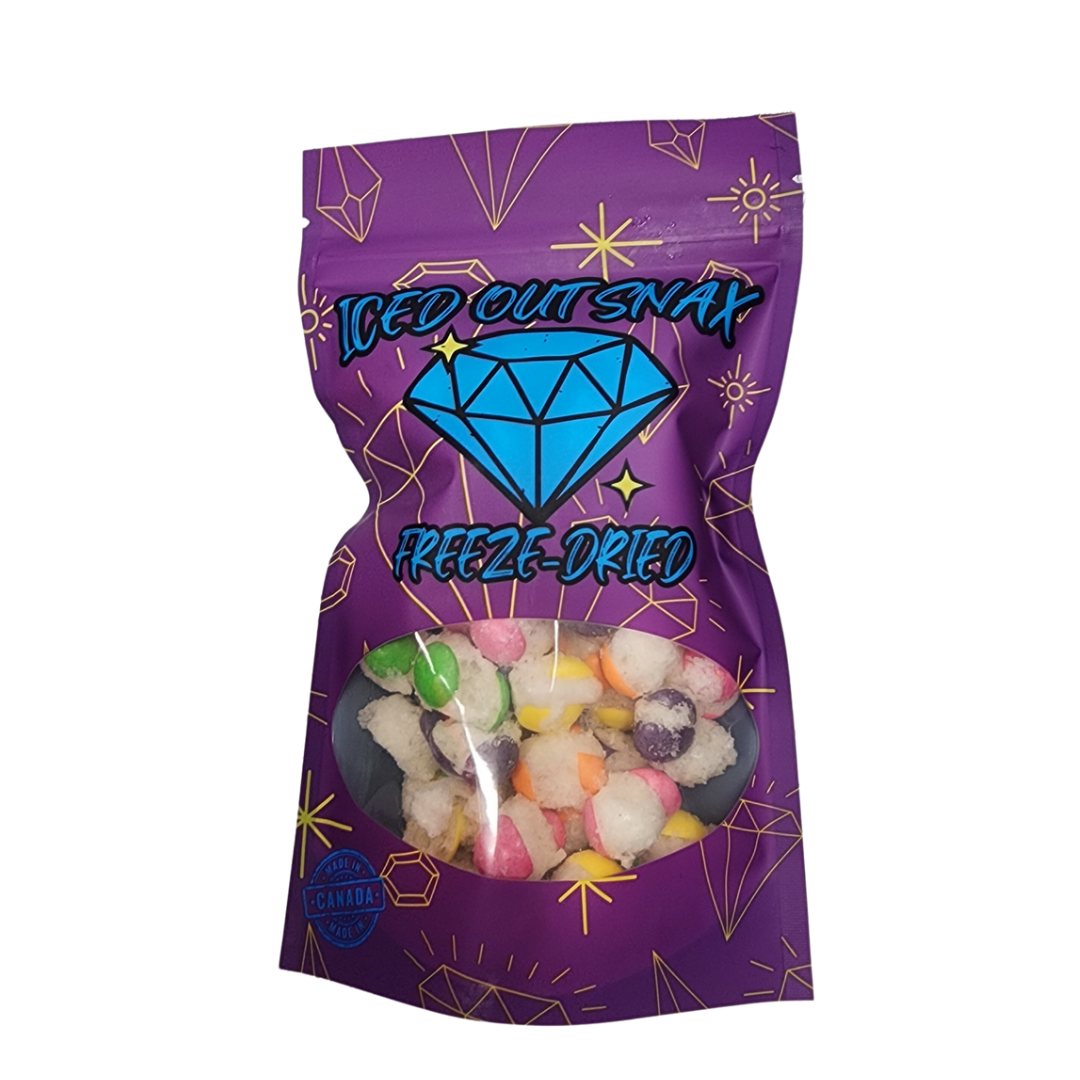 Iced Out Snax - Sour Rainbow
---
In stock, ready to ship

Inventory on the way
Awaken your senses with an exhilarating fusion of tart and sweet in Iced Out Snax's Freeze-Dried Sour Skittles. We've taken the vibrant, zesty flavors of your favorite sour Skittles and freeze-dried them, transforming their classic chewy texture into a delightful crunch that intensifies their distinctive taste.
Each Freeze-Dried Sour Skittle is a taste explosion. The moment you bite into one, you'll be met with an unexpected crunch, a stark contrast to the typical softness you're used to. This delightful crispness then melts away to release an intense surge of tangy fruit flavors that are even more potent than their traditional counterparts, thanks to our unique freeze-drying process.
From lemon to strawberry, orange to grape, and green apple, every Skittle offers a different, tantalizingly tart fruit flavor. The outer layer gives you a thrilling sour kick, which then beautifully mellows down to the sweet fruity taste that Skittles are famous for. With these Freeze-Dried Sour Skittles, every bite is a flavor adventure that keeps you reaching for more.
Ideal for those who love their candy with a sour punch, Iced Out Snax's Freeze-Dried Sour Skittles offer a taste experience that's out of this world. They're an invigorating, fun, and unexpected twist on a beloved classic, perfect for the adventurous snacker.
Experience the zing, savor the sweet, and revel in the unexpected crunch with Iced Out Snax's Freeze-Dried Sour Skittles. Get ready to embrace the world of "Iced Out" snacking - a realm where your favorite candies are given a thrilling new life. Dive in today!
To Canada:
Free - Orders over $175
$15 - Order $0-99.99
$7.50 - Order $100-174.99