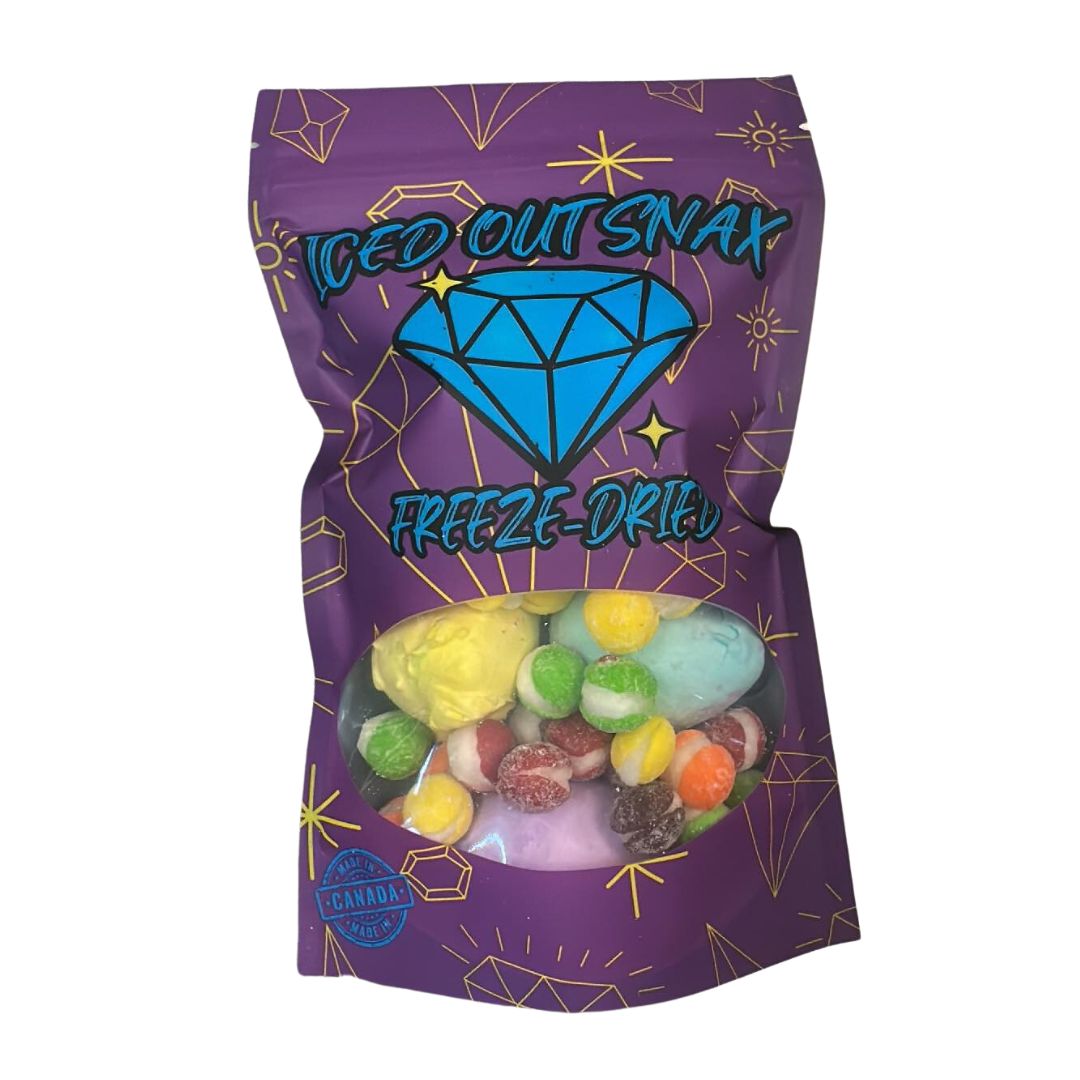 Iced Out Snax - Sour Salt Water Air
---
Low stock - 2 items left

Inventory on the way
Get ready to embark on a flavor adventure that's both nostalgic and exciting with Iced Out Snax's "Sour Salt Water Air"! This is not your ordinary candy bag; it's a playful blend of Freeze-Dried Salt Water Taffy and Freeze-Dried Sour Skittles that takes you on a thrilling journey of tastes and textures.
Our Sour Salt Water Air offers the best of two worlds - the sweet, slightly salty goodness of Salt Water Taffy and the tantalizing tang of Sour Skittles. Both are transformed by our precision freeze-drying process that enhances their natural flavours and introduces a unique, satisfying crunch that you'll adore.
The Freeze-Dried Salt Water Taffy will whisk you away to sunny beachside boardwalks. You'll enjoy the intensified, creamy sweetness that's paired perfectly with a light hint of sea salt, all wrapped up in a delightful crispy texture.
On the other hand, the Freeze-Dried Sour Skittles add a zesty kick to the mix. Each Skittle, with its amplified sour fruitiness, now has a pleasing crunch that contrasts with its original chewiness, making each bite a burst of flavor and fun.
The interplay between the sweet-salty taffy and the tangy Skittles makes our "Salt Water Sour Air" a captivating taste experience. It's an innovative snack, perfect for those who love exploring unique flavor combinations and exciting textures.
Iced Out Snax's Sour Salt Water Air is truly a sensory joy ride. It's a daring, delicious delight that will keep you reaching for more. Embrace the crunch, savor the blend of flavors, and prepare to be amazed – you're about to get "Iced Out"
To Canada:
Free - Orders over $175
$15 - Order $0-99.99
$7.50 - Order $100-174.99