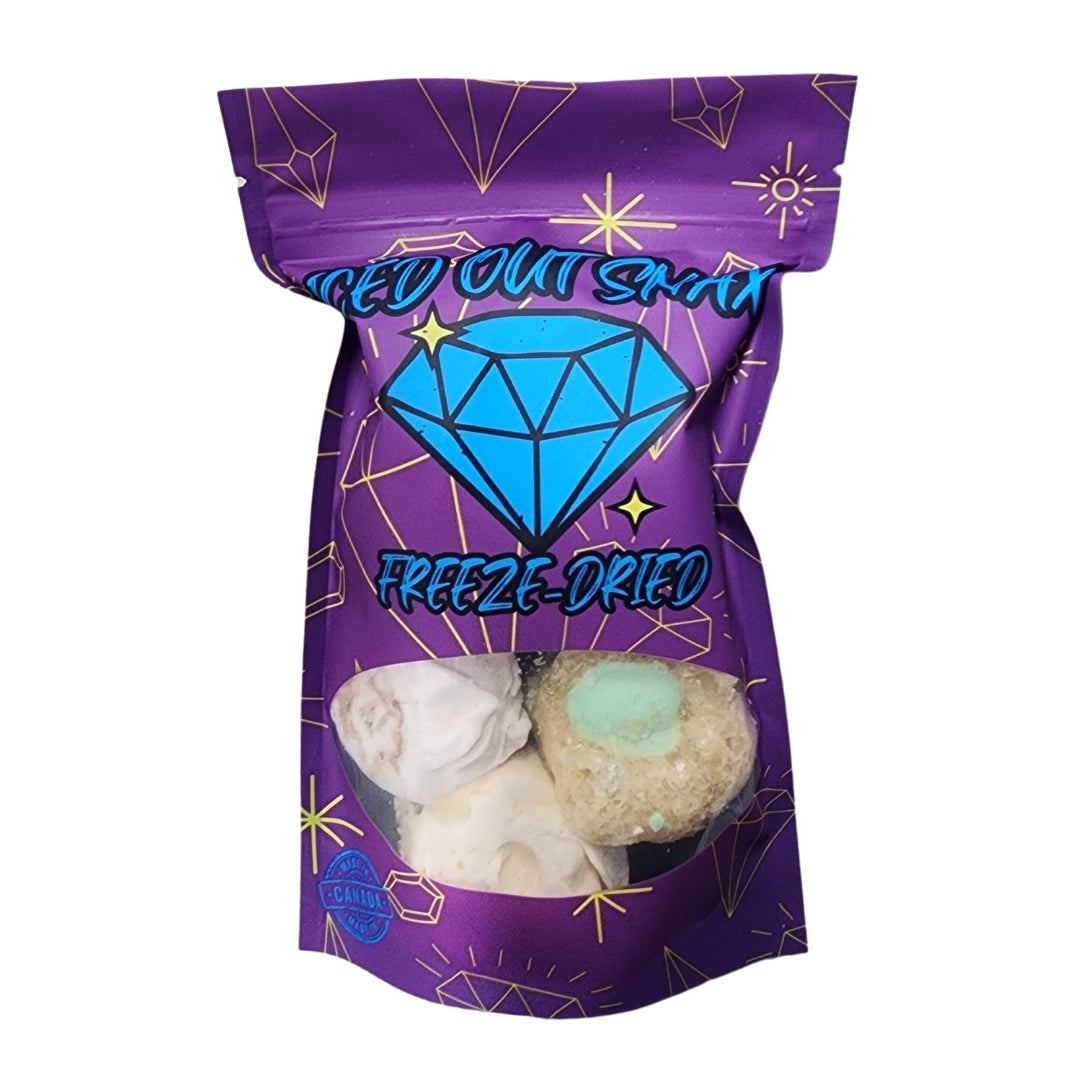 Iced Out Snax - Grandma's Sweets
---
In stock, ready to ship

Inventory on the way
Rekindle your sweetest memories with Iced Out Snax's Grandma's Treats. This delectable assortment of Freeze-Dried Salt Water Taffy, featuring flavors like Cinnamon Bun, Blueberry Muffin, Caramel Apple, and Butterscotch, is a nostalgic journey back to grandma's kitchen, now packed with an exciting, crunchy twist.
Every bite of our Grandma's Treats is a delightful surprise, a tribute to the comforting treats we all grew up with. The familiar, mouthwatering flavors of cinnamon buns, blueberry muffins, caramel apples, and butterscotch are transformed through our freeze-drying process, intensifying the sweetness and introducing a satisfying crunch.
Imagine biting into a piece of Cinnamon Bun taffy, where the spicy warmth of cinnamon is perfectly balanced with a creamy sweetness, or tasting the classic combination of ripe, juicy blueberries and a sweet, crumbly muffin in our Blueberry Muffin taffy. Then, the Caramel Apple taffy captures the joy of biting into a caramel-coated apple at a fall fair, while the Butterscotch taffy evokes the buttery, brown sugar delights from grandma's candy jar.
What's more, the freeze-drying process adds an unexpected, delightful crispness to the chewy taffy, making every bite a multi-sensory experience. It's a playful, yet nostalgic journey of flavors, bringing forth memories of warm kitchens, fresh-baked goods, and the comforting sweetness only grandma's treats can offer.
Embrace the joy of revisiting cherished memories with Iced Out Snax's Grandma's Treats. It's a comforting, flavor-packed journey down memory lane with a side of crunch. Ready for a taste of nostalgia? It's time to be "Iced Out".
To Canada:
Free - Orders over $175
$15 - Order $0-99.99
$7.50 - Order $100-174.99