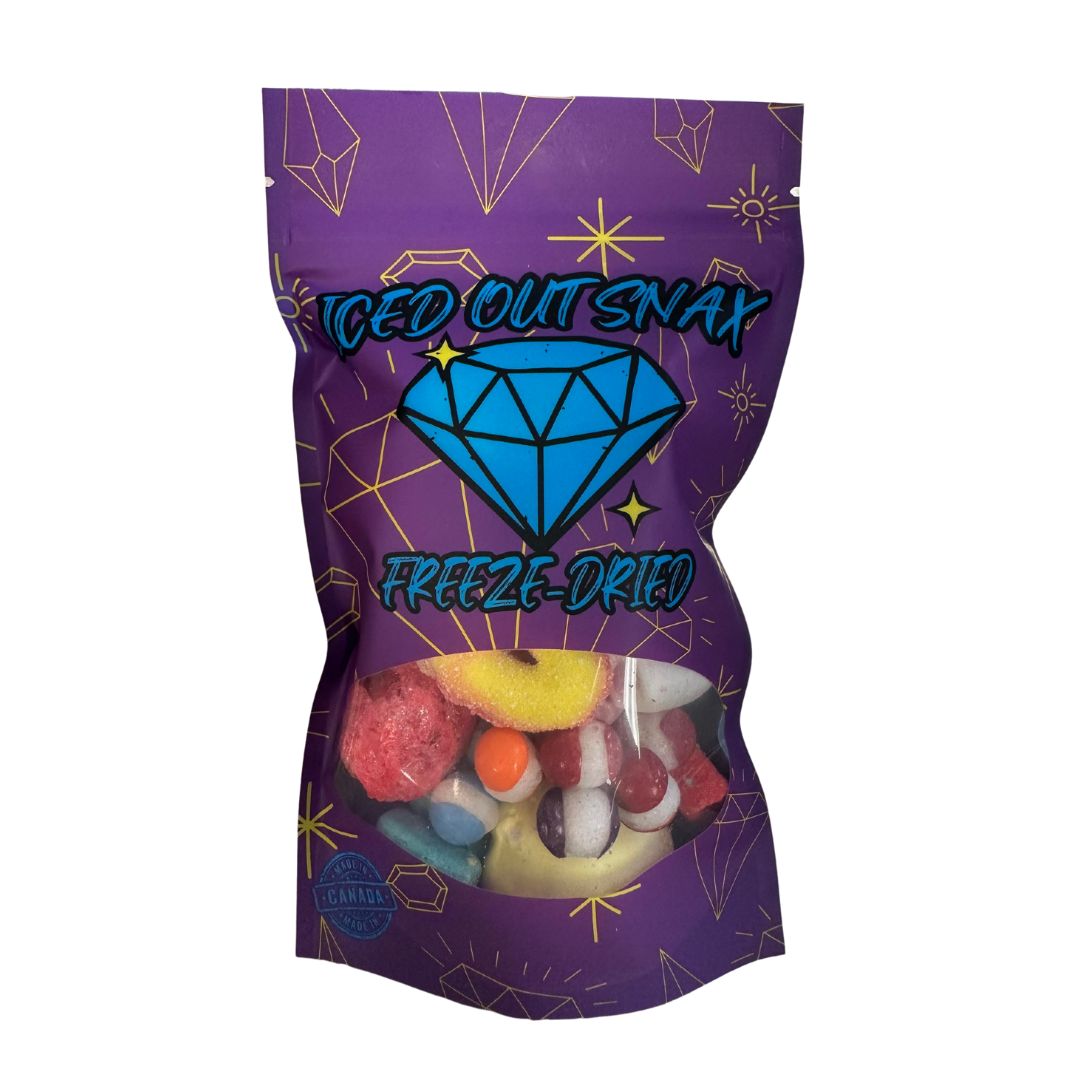 Iced Out Snax - Candy Mix
---
In stock, ready to ship

Inventory on the way
Introducing Iced Out Snax's Mixed Candy Bag, an out-of-this-world confectionery experience like no other! We've taken your favorite sweet treats, freeze-dried them to perfection, and combined them into one extraordinary snack pack that's sure to make your tastebuds dance.
This mouthwatering medley features Salt Water Taffy, Skittles, Jolly Ranchers, Hi-Chews, Frooties, and Peach Rings, all revamped with our unique freeze-drying process. The result? An intensified flavor explosion and a unique, light, and crispy texture that adds a delightful twist to these timeless candy classics.
Our Salt Water Taffy will transport you straight to the seaside with its pure, sweet, and slightly salty flavor, now with a surprising crunch. Skittles bring a colorful confetti of fruity flavors, their tangy taste amplified and their chewiness transformed into an irresistible, satisfying snap.
Jolly Ranchers offer a bold and tangy delight, their intense fruit flavors now in a delightfully crunchy format that melts into smoothness in your mouth. Hi-Chews turn from chewy to light and airy, providing a burst of intense fruitiness with an exciting new mouthfeel.
Frooties add a pop of fun to the mix, their smooth, fruity flavors now paired with a surprising crunch, and our Peach Rings deliver a sweet and sour combo, their gummy texture replaced by a crispiness that adds an extra level of enjoyment to each bite.
Every candy in the Iced Out Snax Mixed Candy Bag has been carefully freeze-dried to lock in flavor and provide a unique, crunchy twist. It's the ultimate snack for candy lovers looking to embark on a new taste adventure. Experience the crunch, enjoy the unexpected, and get "Iced Out" today!
To Canada:
Free - Orders over $175
$15 - Order $0-99.99
$7.50 - Order $100-174.99