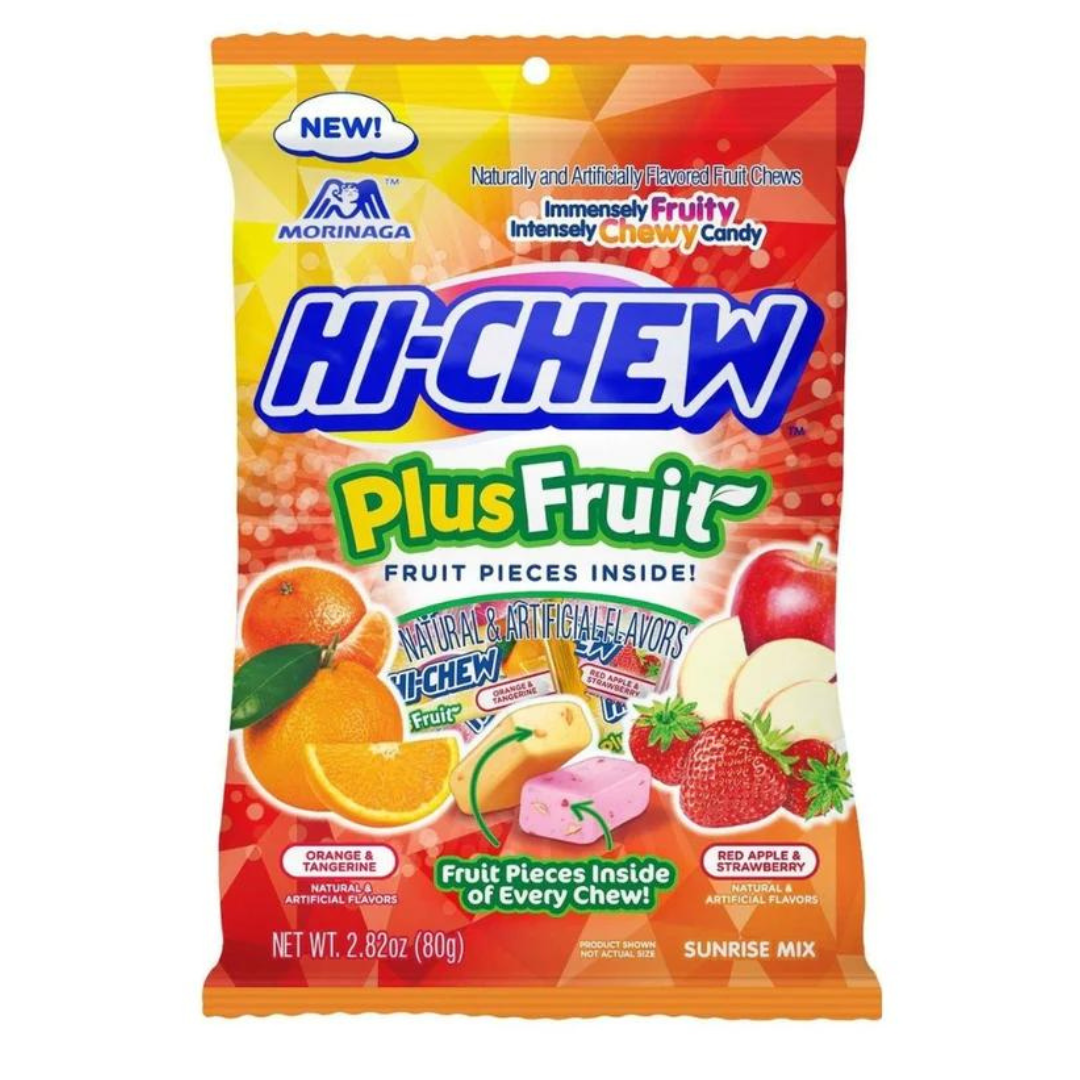 Hi-Chew Plus Fruit
---
In stock, ready to ship

Inventory on the way
Hi-Chew Plus Fruit is an enhanced version of the popular Hi-Chew candy, known for its chewy texture and intense fruit flavors. The Hi-Chew Plus line offers an extra burst of flavor and a more intense taste experience compared to regular Hi-Chew candies.
Like the original Hi-Chew, Hi-Chew Plus Fruit comes in individually wrapped rectangular pieces, making them convenient for on-the-go snacking. Each piece has a soft and chewy texture that provides a satisfying and prolonged chewing experience.
The key feature of Hi-Chew Plus Fruit is its emphasis on intense fruit flavors. These candies are designed to deliver a concentrated and bold taste of various fruits. The specific fruit flavors available in the Hi-Chew Plus Fruit assortment may vary, but examples include strawberry, pineapple, apple, mango, watermelon, and more. Each flavor aims to capture the essence of the fruit, offering a vibrant and mouth-watering taste.
What sets Hi-Chew Plus Fruit apart from regular Hi-Chew candies is the enhanced flavor intensity. The fruit flavors in Hi-Chew Plus are more pronounced and impactful, allowing you to enjoy a stronger burst of fruitiness with every bite.
Hi-Chew Plus Fruit is often enjoyed as a snack or treat for fruit lovers seeking a more intense and flavorful candy experience. Whether you're a fan of traditional fruit flavors or looking to explore bold and concentrated fruit tastes, Hi-Chew Plus Fruit offers a delightful and satisfying option.
Overall, Hi-Chew Plus Fruit combines the chewy texture of Hi-Chew with intensified fruit flavors, providing a heightened and enjoyable candy experience.
To Canada:
Free - Orders over $175
$15 - Order $0-99.99
$7.50 - Order $100-174.99