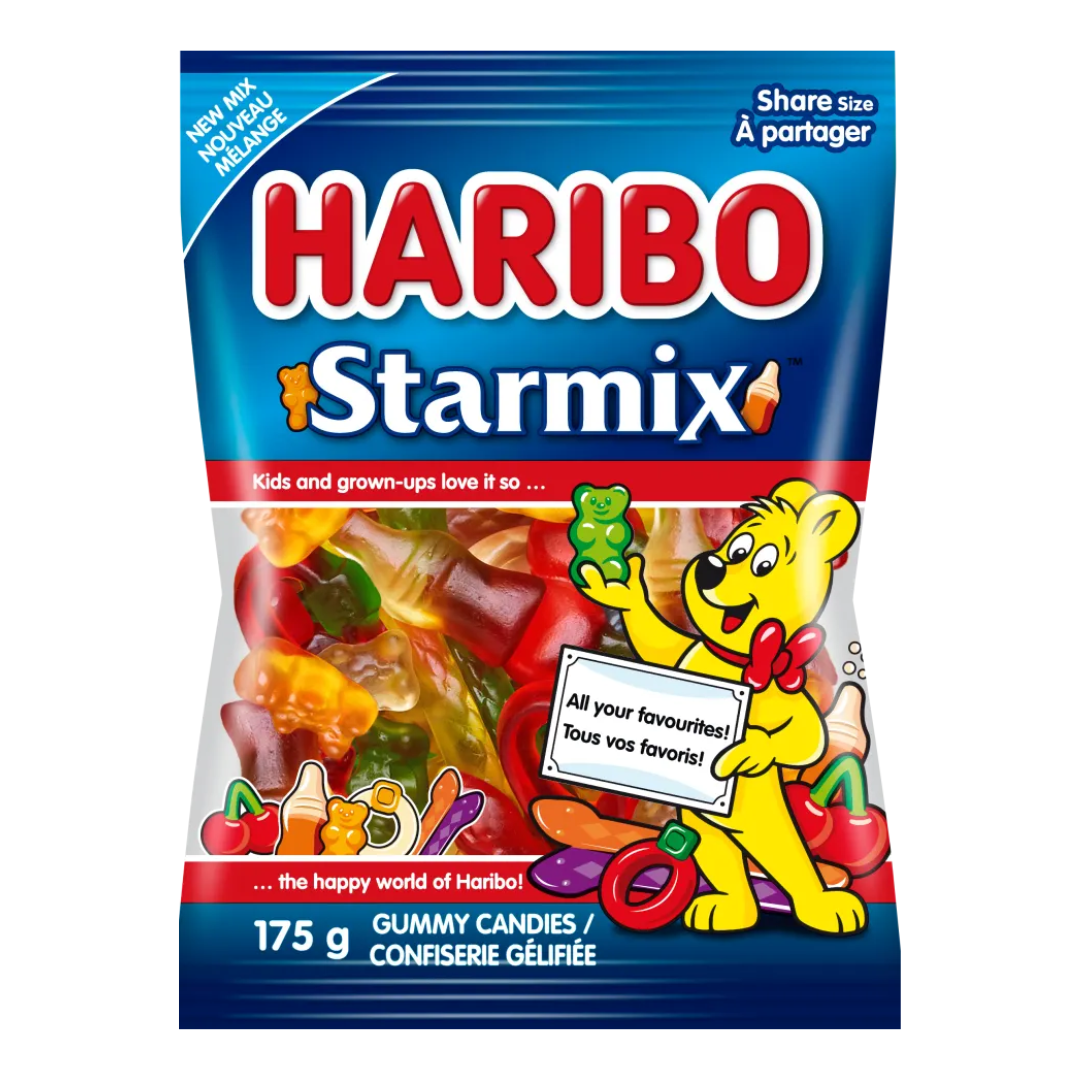 Haribo Starmix
---
In stock, ready to ship

Inventory on the way
Haribo Starmix is a beloved and iconic candy assortment that brings together a constellation of delightful shapes, flavors, and textures. Created by the renowned confectionery brand Haribo, Starmix offers a stellar snacking experience that has captured the hearts of candy enthusiasts worldwide.
Starmix features a variety of shapes inspired by celestial objects and characters. The assortment includes the iconic Gold Bears, which are soft, chewy gummy bears with a delightful fruity flavor. These bear-shaped candies are available in an array of vibrant colors, each representing a different fruity taste. From tangy lemon to juicy strawberry, every bite is a burst of sweet and tangy delight.
In addition to the Gold Bears, Starmix includes other gummy shapes that add even more excitement to the mix. There are miniature rings with a chewy texture and fruity flavors, giving you a playful accessory to wear and enjoy. The enticing gummy cola bottles offer a unique cola taste with a satisfying chew. The gummy fried eggs add a whimsical touch with their playful design and fruity flavor combination.
One of the reasons Starmix has become a fan favorite is the delightful combination of textures. The soft and chewy gummies, paired with the sugar coating on some of the candies, provide a satisfying textural experience. The balance between the flavors, colors, and textures makes Starmix an irresistible treat.
Whether you're enjoying Starmix as a sweet indulgence for yourself, sharing it with friends and family, or using it as a party favor or treat, this assortment offers something for everyone. Its timeless appeal and wide variety of flavors and shapes make it a staple in candy aisles and a go-to choice for those seeking a delightful and satisfying snacking experience.
Experience the joy and magic of Haribo Starmix and let the gummy Gold Bears, rings, cola bottles, and fried eggs take you on a flavorful journey through the galaxy of sweetness. With each bite, you'll discover why Starmix has become a cherished and iconic candy assortment that brings smiles to faces of all ages.
142g
To Canada:
Free - Orders over $175
$15 - Order $0-99.99
$7.50 - Order $100-174.99