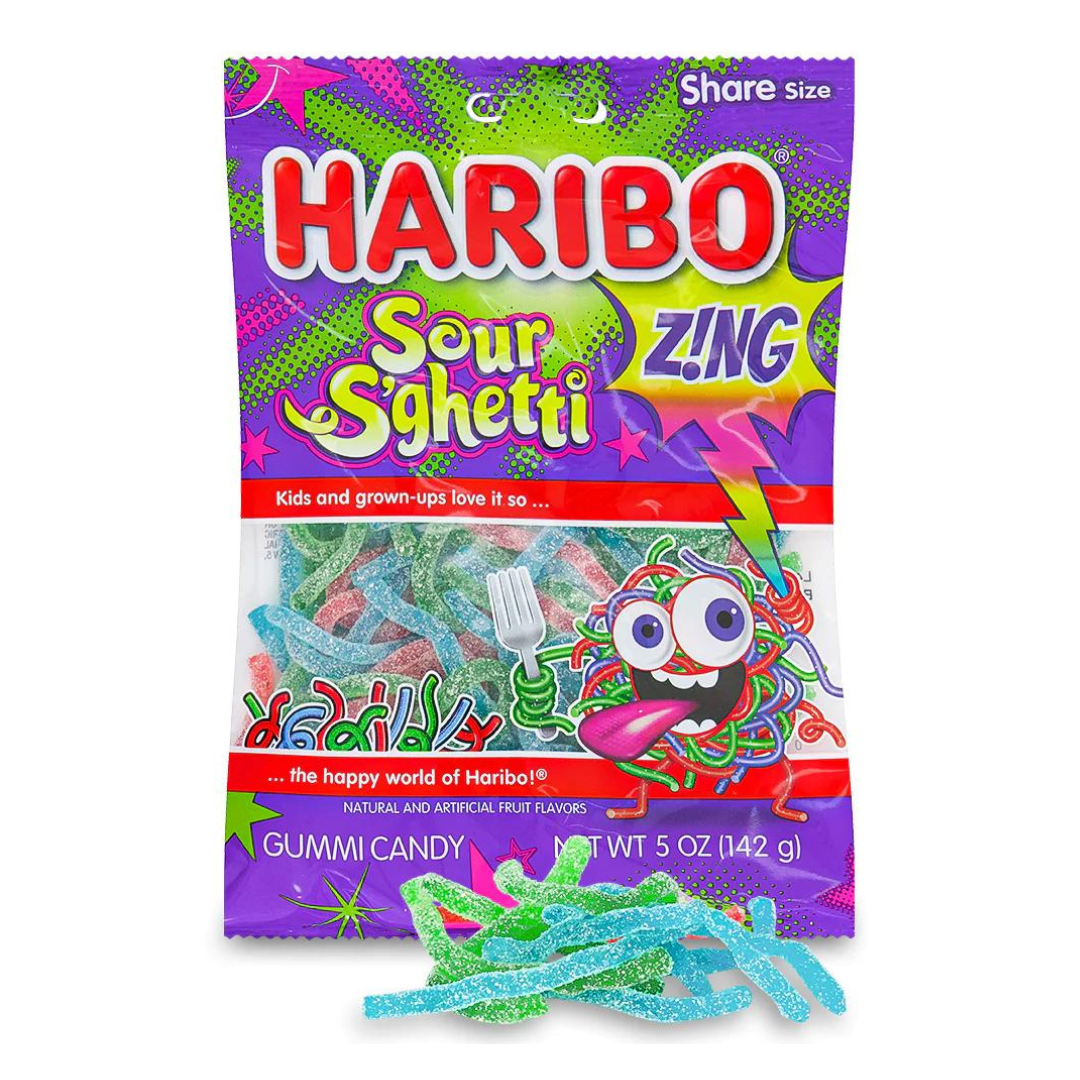 Haribo Sour S'ghetti
---
In stock, ready to ship

Inventory on the way
Haribo Sour S'ghetti is a whimsical and tangy candy creation that adds a playful twist to the classic licorice candy experience. Made by the renowned confectionery brand Haribo, Sour S'ghetti offers a delightful combination of chewy texture, fruity flavors, and sour goodness.
These delicious treats take the form of colorful strands of licorice, resembling spaghetti noodles. Each strand is coated with a sour sugar dusting, which adds a zingy and tangy kick to the candy. The sour coating provides an initial burst of puckering flavor that tantalizes your taste buds.
As you bite into a strand of Sour S'ghetti, you'll encounter a chewy and satisfying texture. The licorice strands are infused with fruity flavors, such as strawberry, apple, blueberry, and more. These flavors provide a sweet and juicy taste that complements the sour coating, creating a delightful balance of flavors.
The playful spaghetti shape of these candies adds a touch of fun and creativity to the snacking experience. Whether you eat them strand by strand or twist them together to create unique combinations, Sour S'ghetti invites you to enjoy every bite with a sense of whimsy.
Perfect for sour candy enthusiasts and those who appreciate a playful twist on traditional licorice, Haribo Sour S'ghetti offers a flavorful and enjoyable snacking adventure. Share them with friends, use them as a decoration for themed desserts, or savor them as a sweet and tangy indulgence.
So, grab a handful of Haribo Sour S'ghetti and let the chewy texture, fruity flavors, and sour coating transport your taste buds to a world of tangy and playful delight. Embrace the spaghetti-inspired candy and experience the joy that comes with each strand of this whimsical treat.
To Canada:
Free - Orders over $175
$15 - Order $0-99.99
$7.50 - Order $100-174.99