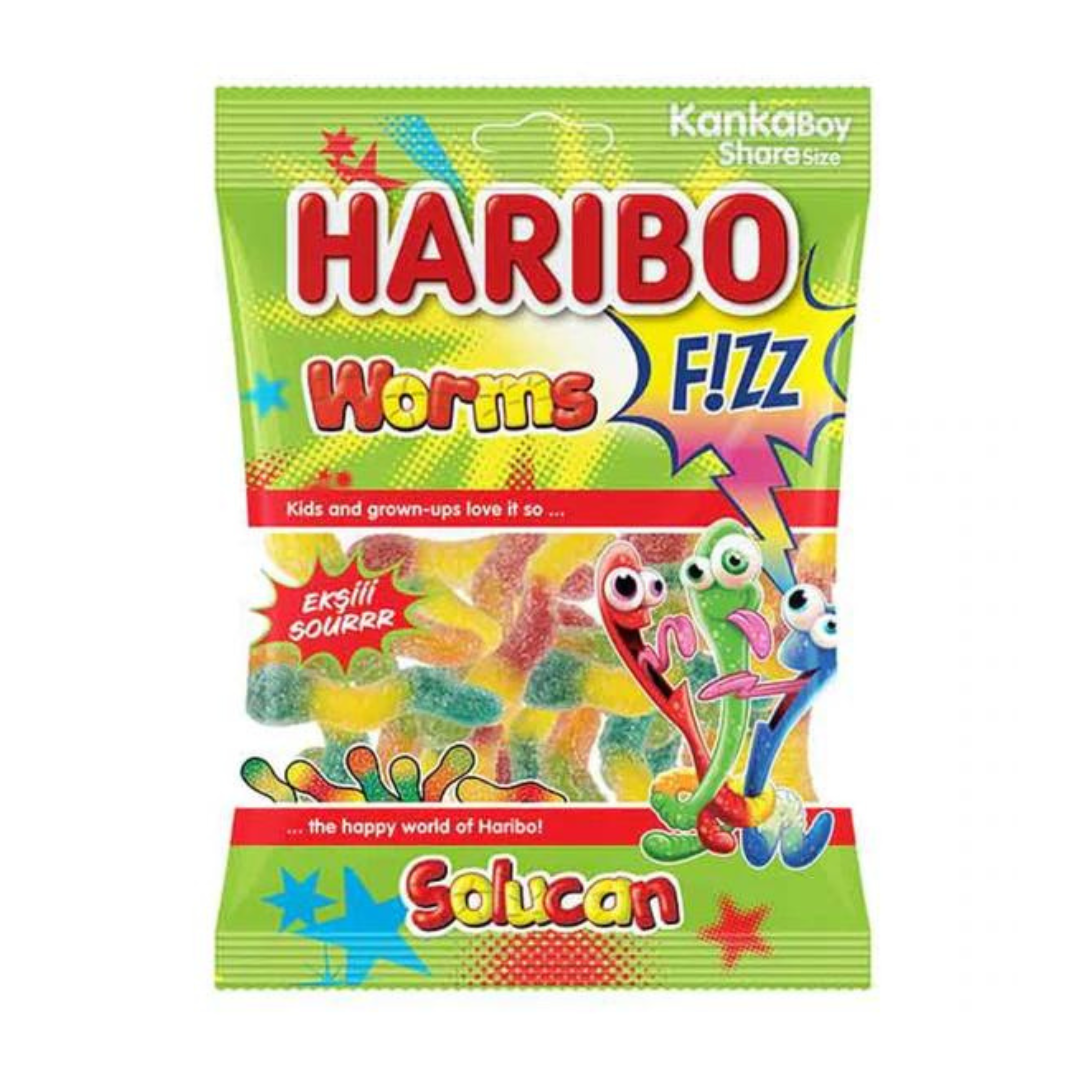 Haribo Fizz Worms - Turkey
---
In stock, ready to ship

Inventory on the way
Haribo Fizz Worms from Turkey are a tangy and fizzy twist on the classic gummy worm candy. Created by the renowned confectionery brand Haribo, these delightful treats combine the chewy texture of gummy worms with a zingy burst of sour and fizzy flavors.
The Fizz Worms feature a colorful assortment of gummy worm shapes that are coated with a sour sugar dusting. As you bite into one of these worms, you'll experience a tantalizing combination of tanginess and fizzy sensations. The sour sugar coating delivers an initial puckering kick, followed by a delightful effervescence that adds an exciting and surprising element to the snacking experience.
The chewy texture of the Fizz Worms provides a satisfying bite, allowing you to enjoy the flavors and textures as they unfold. Each worm is bursting with fruity flavors, including lemon, strawberry, orange, and more. These flavors are carefully crafted to provide a balance between sweetness and tanginess, creating a harmonious blend that keeps you coming back for more.
Haribo Fizz Worms from Turkey are perfect for those who enjoy a sour and fizzy twist to their gummy candy. Whether you savor them one by one or mix and match different flavors, these worms offer a flavorful and enjoyable snacking adventure.
So, indulge your taste buds with the tangy and fizzy delight of Haribo Fizz Worms from Turkey. Embrace the sourness, relish the chewiness, and let the burst of flavors take your snacking experience to new and exciting heights.
70g
To Canada:
Free - Orders over $175
$15 - Order $0-99.99
$7.50 - Order $100-174.99