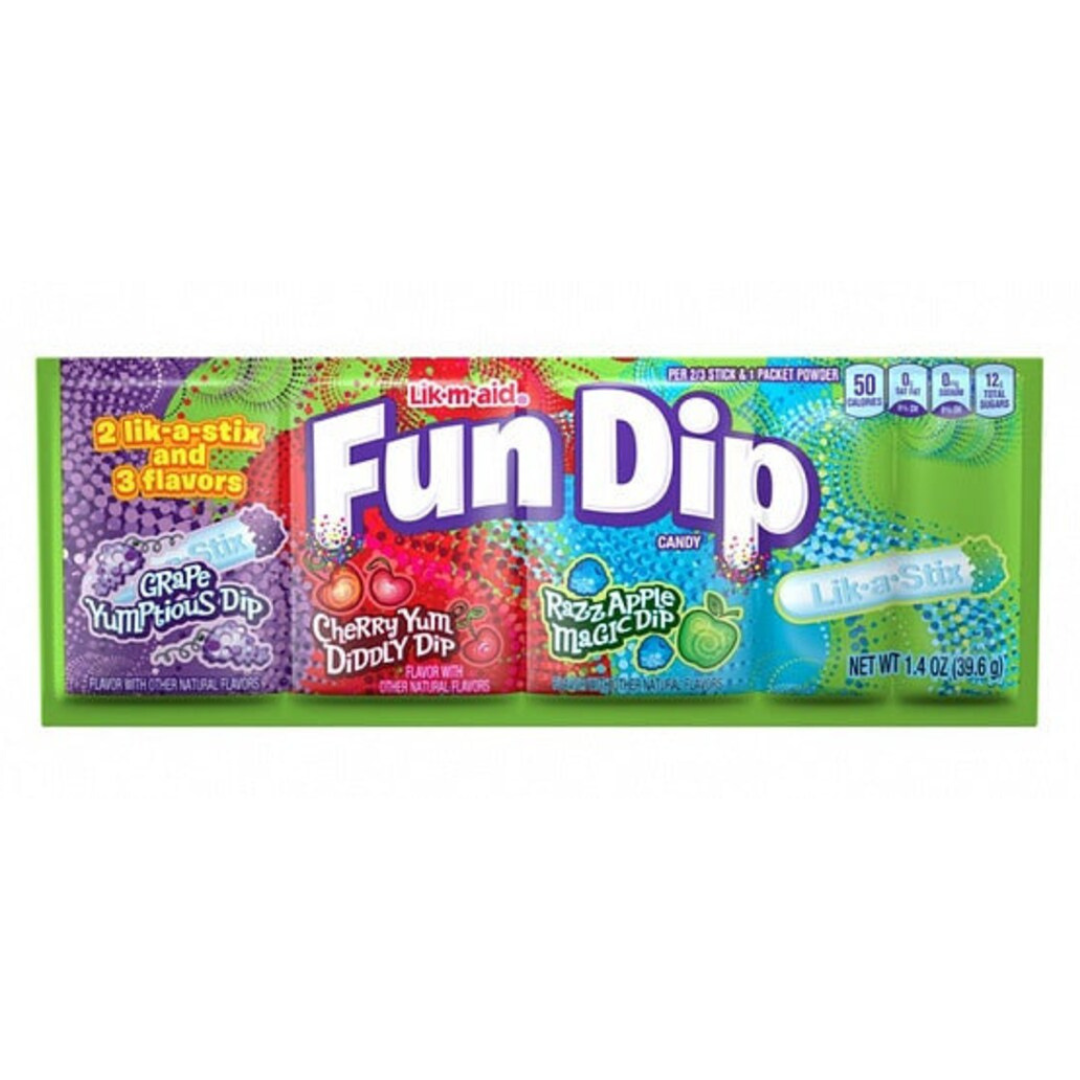 Fun Dip
---
Low stock - 1 item left

Inventory on the way
Introducing Fun Dip: Unleash the Sweet Fun!
Get ready for a sugary delight that will transport you back to your childhood with Fun Dip! This iconic candy is a nostalgic favorite, loved by candy enthusiasts of all ages for its unique and interactive eating experience.
Fun Dip is a playful and interactive candy treat that consists of flavored powdered sugar and a sweet candy stick. The fun begins as you open the colorful package and reveal the assortment of flavored powder packs inside. Each pack comes in a different mouthwatering flavor, such as cherry, grape, or blue raspberry.
Here's where the fun really kicks in: You dip the candy stick into the flavored powder, coating it with a vibrant burst of sweetness. Then, take a lick or a bite, and experience the perfect balance of tangy and sweet flavors that will have your taste buds dancing with joy. The combination of the crunchy candy stick and the smooth powdered sugar creates a delightful texture contrast that adds to the overall enjoyment.
What makes Fun Dip even more exciting is that you can mix and match the different flavors and create your own unique taste combinations. Dip the stick into multiple powders or experiment with different ratios to customize your flavor experience. It's a fun and interactive way to explore your taste preferences and get creative with your candy enjoyment.
Fun Dip is not only a tasty treat but also a perfect choice for sharing and socializing. It's a hit at parties, gatherings, and events, as people can bond over the joy of dipping and tasting the variety of flavors. It's a nostalgic experience that brings back memories and creates new ones with friends and family.
Whether you're looking to satisfy your sweet tooth, indulge in some nostalgic fun, or create unforgettable moments with loved ones, Fun Dip is the perfect choice. Its vibrant colors, exciting flavors, and interactive nature make it a candy experience that is truly unforgettable.
So, why wait? Dive into the world of sweet fun with Fun Dip today and relish in the joy of dipping, licking, and savoring the delightful flavors that this beloved candy has to offer. Unleash your inner child and let the fun begin!
To Canada:
Free - Orders over $175
$15 - Order $0-99.99
$7.50 - Order $100-174.99