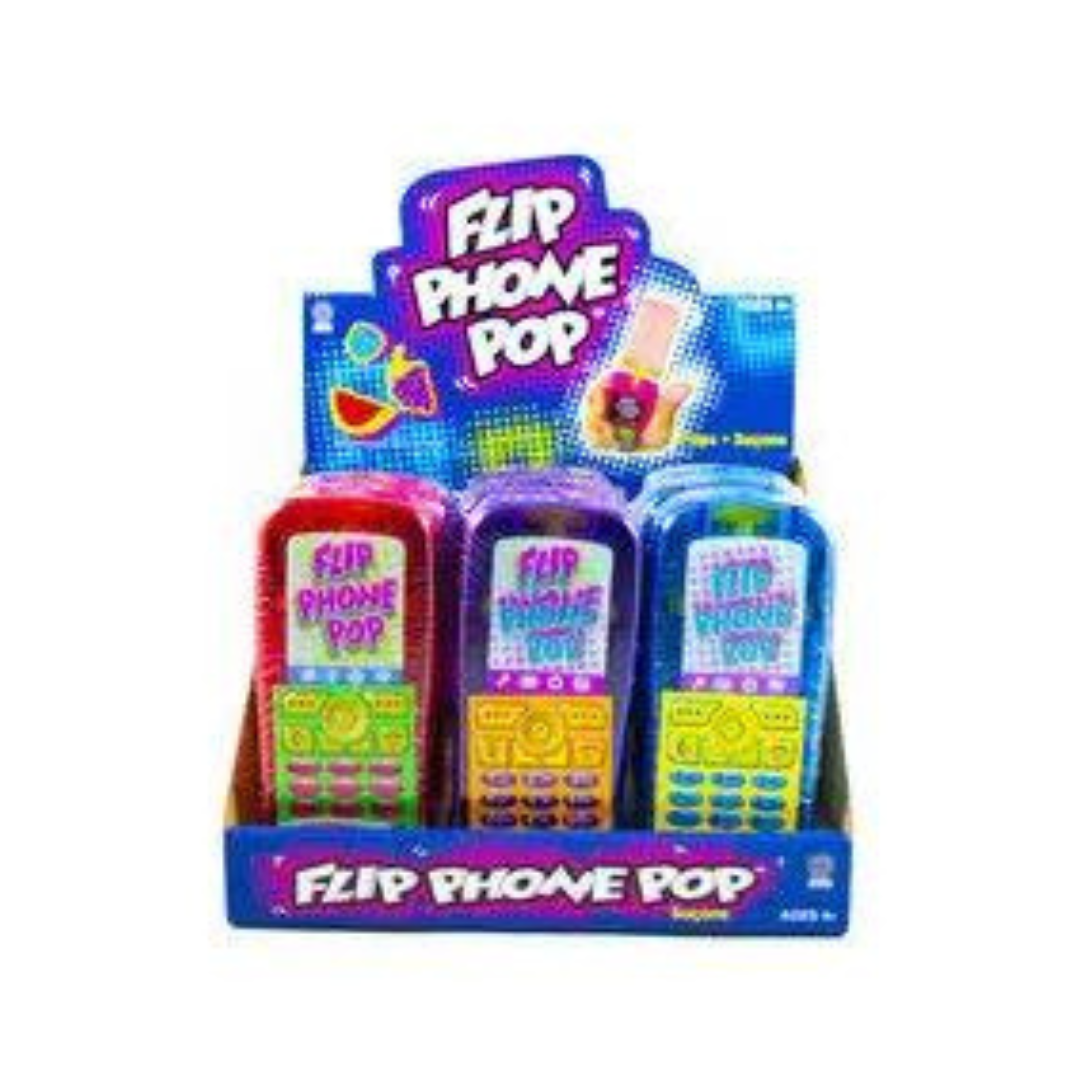 Flip Phone Pop
---
In stock, ready to ship

Inventory on the way
Regal Flip Phone Pop is a stylish and nostalgic confectionery product that pays homage to the iconic flip phones of the past. It combines the fun and excitement of a candy lollipop with the familiar design elements of a flip phone, creating a unique and eye-catching treat.
The Regal Flip Phone Pop is designed to resemble a miniature flip phone, complete with a hinge in the middle that allows it to open and close. The candy part of the pop is attached to one side, while the other side replicates the look of a phone keypad and screen, albeit in a simplified and candy-like form.
The candy part of the Flip Phone Pop is often a lollipop or a flavored hard candy that comes in various colors and flavors. The flavors can range from fruity options like strawberry, blueberry, or watermelon, to more classic choices like cherry or grape. The vibrant colors and delicious flavors add to the appeal and enjoyment of this novelty candy.
To enjoy the Regal Flip Phone Pop, you can simply open the candy "flip" and lick or suck on the lollipop or hard candy. The nostalgic design and interactive nature of the candy make it a playful and entertaining treat, particularly for those who have fond memories of using flip phones in the past.
Regal Flip Phone Pop is often found in candy stores, novelty shops, or online retailers specializing in unique confections. It is popular among candy enthusiasts, collectors, and those who appreciate retro-inspired treats.
Overall, Regal Flip Phone Pop combines the charm of a classic flip phone design with the sweet flavors of candy, creating a delightful and visually appealing confectionery experience. Whether you're a fan of nostalgic gadgets or simply enjoy fun and tasty treats, the Regal Flip Phone Pop is sure to capture your attention and satisfy your sweet tooth.
To Canada:
Free - Orders over $175
$15 - Order $0-99.99
$7.50 - Order $100-174.99