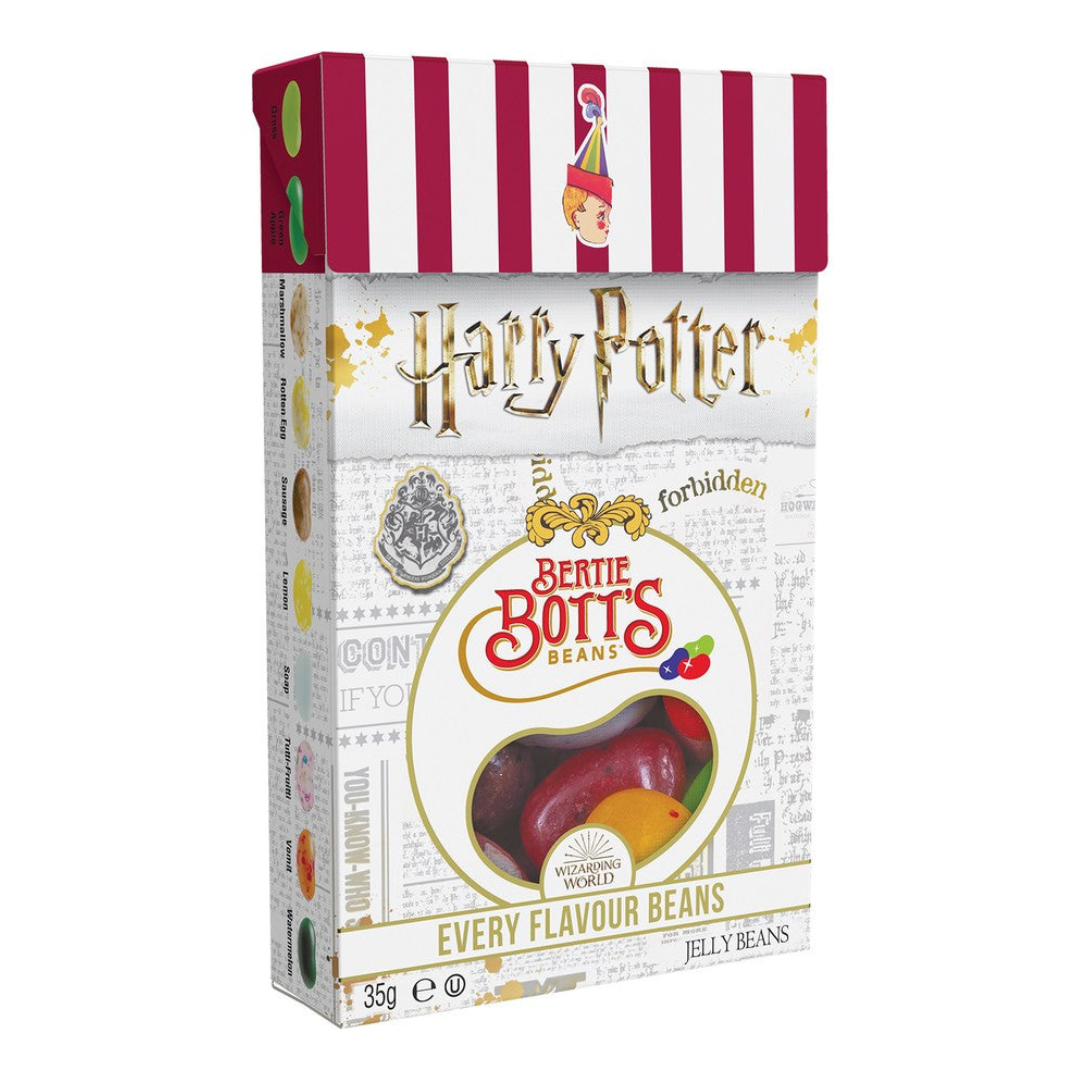 Bertie Bott's Every Flavour Beans
Regular price
$4.99
Sale price
$4.29
Save $0.70
/
---
In stock, ready to ship

Inventory on the way
The Wizarding World's favorite candy has returned! Get a box of tasty jelly beans blended with weird, wild flavors when you try Harry Potter™ Bertie Bott's Every Flavour Beans! Each box contains an assortment of our 20-flavor medley. An exciting mixture of both delicious and strange flavors makes these Harry Potter jelly beans fun and terrifying to eat. This fun candy is inspired by the boy wizard books and movies we all know and love. 
Delicious "normal" jelly beans are mixed with crazy, creepy flavors in a 20-flavor magical medley, which keeps tasters guessing whether they'll get a tasty or tricky flavor with every bite. Some of the tasty flavors include Marshmallow, Cherry, Cinnamon and Blueberry. These are paired with gross flavors like Vomit, Soap and Earwax as well as odd flavors like Sausage, Grass and Black Pepper for a fun and risky experience. Each 1.2-ounce box is the perfect serving size for kids or the young at heart. Give them out as party favors at your child's next birthday party or use them as stocking stuffers for a fun-filled Christmas morning.
What Flavors Come in Jelly Belly Harry Potter™ Jelly Beans?
Like all of your favorite Jelly Belly mixes, Harry Potter™ Bertie Bott's Every Flavour Beans come with a wide variety of different flavors, but this mix just so happens to include a combination of weird, wild beans and tasty, delicious ones! If you dare, you'll taste Booger, Black Pepper, Dirt, Earthworm, Earwax, Grass and Rotten Egg in this magical mix. If you're all about the yummy flavors, don't let this list scare you away! Bertie Bott's Beans also include Cherry, Green Apple, Lemon, Watermelon and Tutti-Fruitti! Half the fun is seeing whether the bean you've picked is a good or gross flavor. For the complete list of flavors, check out the Harry Potter jelly beans flavor chart.
Size: 1.2-ounce box
To Canada:
Free - Orders over $175
$15 - Order $0-99.99
$7.50 - Order $100-174.99