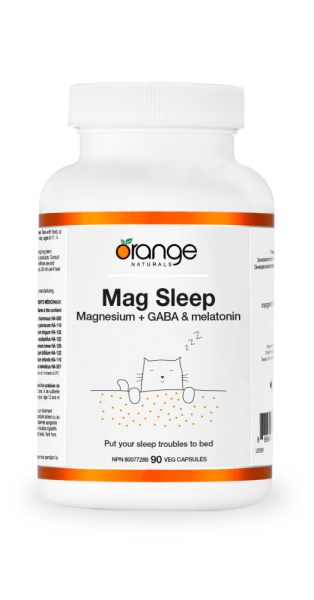 Sleep - Magnesium + GABA + Melatonin - 90 capsules
---
In stock, ready to ship

Inventory on the way
Reclaim your sleep and get the rest you need (and deserve!), with this calming but powerful blend of magnesium glycinate, GABA and melatonin. Introducing Mag Sleep – a formula designed to reduce the time it takes to fall asleep and reset the body's sleep-wake cycle, while promoting relaxation.
Magnesium is one of the most abundant minerals needed inside our cells. It plays an important role in hundreds of cellular reactions, such as muscle function support and promoting relaxation in the body and mind. 
This unique magnesium-glycine complex provides a therapeutic 125mg of magnesium bis-glycinate, the optimal form of magnesium combined with glycine. Glycine is a very calming amino acid that also promotes relaxation in the brain. Incorporating GABA and melatonin into this formula, GABA enhances relaxation in the brain, reduces stress and creates a calm state, while melatonin is our very own 'sleep hormone' produced mainly in the brain. When levels are low at night, our bodies can have difficulty preparing for sleep. Stress, blue light, shift work and aging are some factors that tend to dampen melatonin production.
Give your inner clock a reset with Mag Sleep. It's time. To sleep. Zzzzs await you.
Benefits
Helps reduce time needed to fall asleep
Resets the body's sleep-wake cycle
Temporarily promotes relaxation
Features 
Magnesium glycinate is a form of magnesium that is easy and gentle on the bowels, less likely to cause loose stool or diarrhea and is also a highly absorbable form of magnesium. 
Added GABA to help reduce anxiety and stress
Contains melatonin to calm brain activity and promote sleep
Medicinal Ingredients
Each vegetable capsules contains
Magnesium TRAACS® magnesium glycinate chelate buffered (magnesium glycinate chelate, magnesium oxide)*

125mg

GABA (gamma-aminobutyric acid)

100mg

Melatonin

2.5mg
Non Medicinal Ingredients
Vegetable-grade magnesium stearate, vegetable capsule.
Recommended Use
Helps to reduce the time needed to fall asleep in people with delayed sleep phase disorder, reset the body's sleep-wake cycle and temporarily promote relaxation.
Directions
Adults:Take 1 to 2 capsules before bedtime or as directed by a healthcare practitioner. Do not drive or use machinery for 5 hours after taking melatonin. Consult a healthcare practitioner for use beyond 4 weeks or if symptoms of chronic insomnia worsen or persist continuously for more than 4 weeks.
Cautions
Consult a healthcare practitioner prior to use if you are taking anticoagulant, anticonvulsant, steroids, or blood pressure/immunosuppressive/sedative/hypnotic/psychotropic medications, or if you have asthma, depression, diabetes/hypoglycemia, migraine, hormonal/seizure disorders, or cardiovascular/chronic kidney/immune system/liver disease. Consumption with alcohol or medications/natural health products with sedative properties is not recommended. Do not use if safety seal under cap is broken. Keep out of reach of children.
Drug Interactions
Rare allergic reactions and mild gastrointestinal symptoms (nausea, vomiting, or cramping) have been known to occur – discontinue use if so.
Contradictions
Do not use if you are pregnant or breastfeeding.
To Canada:
Free - Orders over $175
$15 - Order $0-99.99
$7.50 - Order $100-174.99