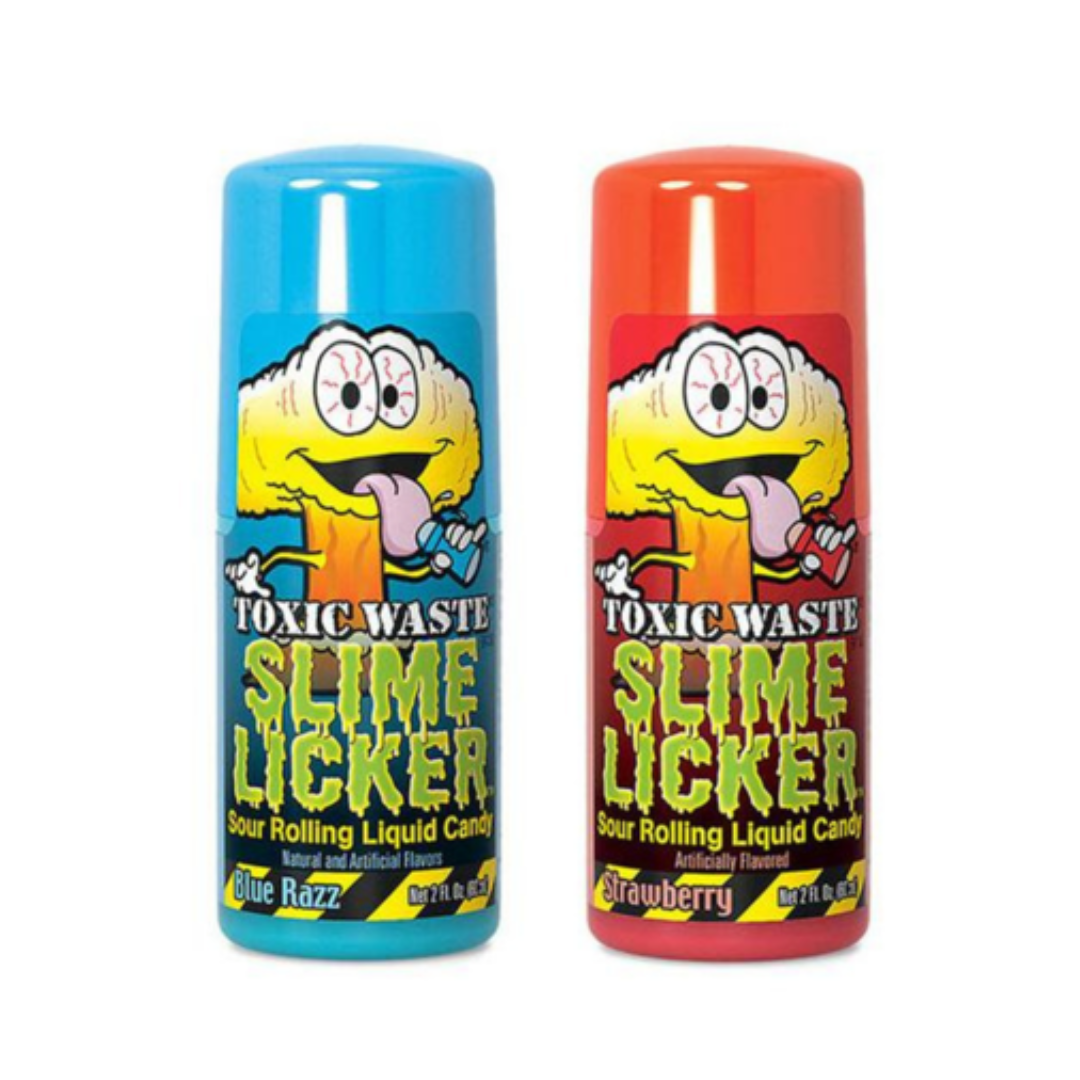 Toxic Waste Slime Licker
---
In stock, ready to ship

Inventory on the way
Introducing the mesmerizing and thrilling Toxic Waste Slime Licker - a one-of-a-kind confectionery experience that combines a tangy twist with a slimy surprise! Prepare for a sensory adventure that will excite and engage candy lovers of all ages.
The Toxic Waste Slime Licker is a unique and captivating treat that offers more than just a delicious flavor. Here's what sets it apart:
Bold and Tangy Flavor: This tantalizing candy provides an intense burst of mouth-watering, tongue-tingling sourness. With flavors like sour apple, sour cherry, and sour blue raspberry, each lick is a thrilling journey for your taste buds.

Sensational Slime Filling: Prepare for a sensory surprise! Hidden within the center of the lollipop is a gooey and colorful slime filling that oozes out as you lick. It adds an interactive and exciting element to the candy-eating experience, making it a hit among kids and adults alike.

Playful Packaging: The Toxic Waste Slime Licker comes in a visually striking and attention-grabbing package. Its vibrant colors and unique design instantly capture the imagination, hinting at the thrilling experience within.

Long-Lasting Treat: With its generous size, the Slime Licker offers a long-lasting enjoyment. Each lick provides a satisfying balance of sourness and sweetness, making it a treat you can savor and enjoy for an extended period.

Portable and On-The-Go: The Slime Licker is conveniently designed to be portable, allowing you to take the excitement wherever you go. It's perfect for road trips, parties, or simply as a fun treat to enjoy whenever the craving strikes.

Collectible and Gift-Worthy: The Toxic Waste Slime Licker has become a sought-after collectible among candy enthusiasts. Its uniqueness and interactive nature make it a perfect gift for birthdays, holidays, or as a surprise treat for a special someone.

Quality and Safety: The Toxic Waste brand is committed to delivering high-quality products. The Slime Licker undergoes strict quality control measures to ensure that it meets safety standards, providing you with a worry-free candy experience.
Indulge in the tangy and slimy delight of the Toxic Waste Slime Licker, where sourness meets excitement. This thrilling treat will add an element of fun and surprise to your candy collection, making it a must-have for any candy aficionado. Get ready to embark on a sour and slimy adventure with the Toxic Waste Slime Licker - the ultimate sensory experience!
To Canada:
Free - Orders over $175
$15 - Order $0-99.99
$7.50 - Order $100-174.99