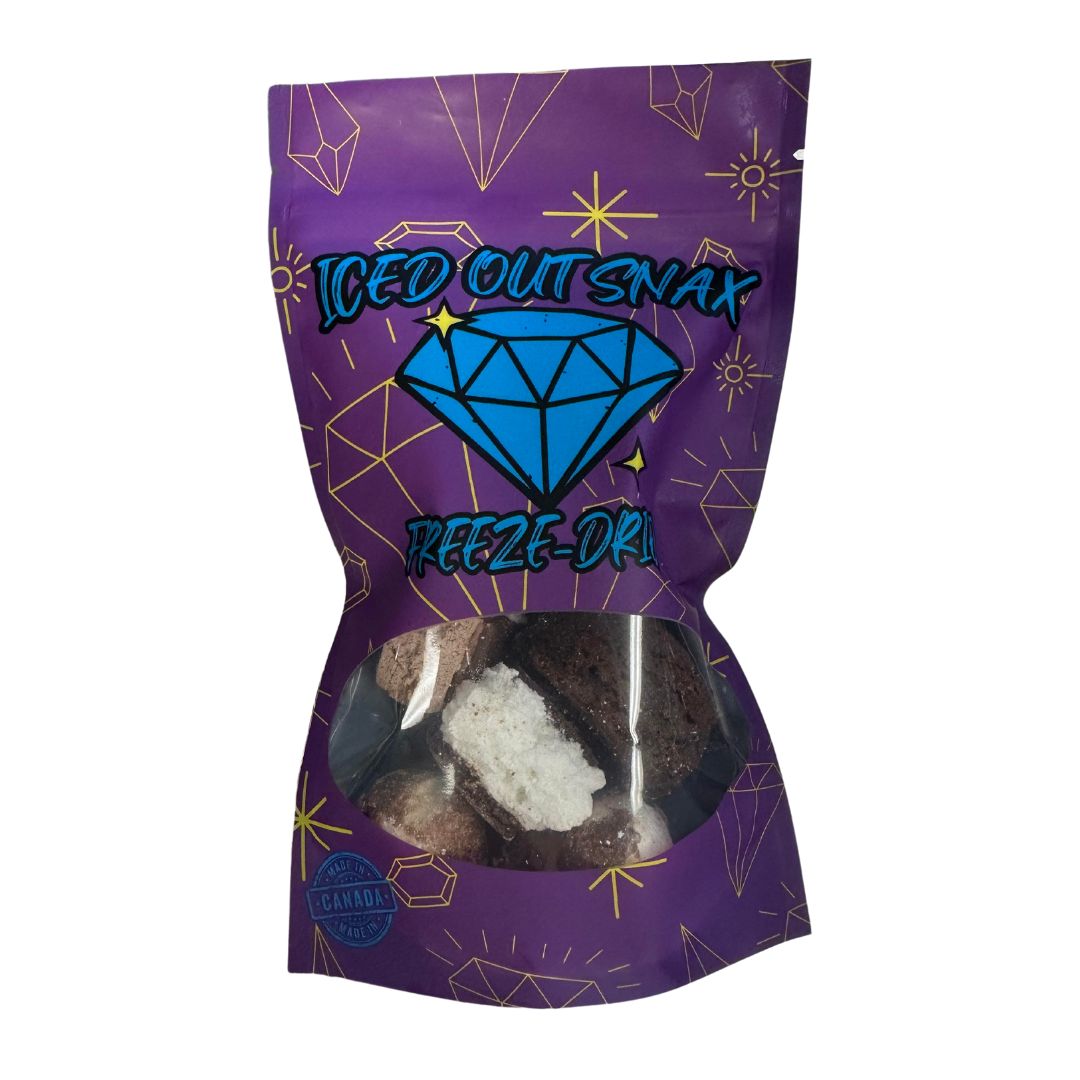 Iced Out Snax - Chocolate Mix
---
In stock, ready to ship

Inventory on the way
Experience a chocolate journey like no other with Iced Out Snax's Mixed Chocolate Bag. We've reinvented some of your beloved chocolaty treats by freeze-drying them, a process that intensifies their flavors and endows them with an unexpected and delightful crunch that will intrigue and delight your palate.
Within this sweet assortment, you'll find Charleston Chews, Ice Cream Sandwiches, and 2-bite brownies, each carefully freeze-dried to create a taste and texture sensation. This bag is not just a treat; it's an adventure in every bite, a trip into a world where familiar comforts meet innovative snacking.
Indulge in the Charleston Chews, where their signature chewy vanilla nougat and rich chocolate coating transform into a light, crispy delight that enhances their delectable flavors. You'll experience an amplified vanilla and chocolate blend with a satisfying snap that eventually melts in your mouth.
Next, explore the freeze-dried Ice Cream Sandwiches. Each bite carries the nostalgic taste of your favorite ice cream sandwich - smooth vanilla ice cream between two soft chocolate wafers - but with an excitingly crunchy twist. It's a taste of summer at any time of year, with a dash of the extraordinary.
Finally, savor the 2-bite brownies, their fudgy, chocolaty goodness turned into a crisp yet melt-in-your-mouth marvel. The rich, cocoa-infused flavors intensify through freeze-drying, giving you a brownie experience that is truly out of this world.
Iced Out Snax's Mixed Chocolate Bag offers a unique way to relish your favorite chocolaty treats. It's a fun, surprising twist on the traditional that's perfect for adventurous chocolate lovers. Get ready to crunch, savor, and indulge in a whole new way - prepare to get "Iced Out".
To Canada:
Free - Orders over $175
$15 - Order $0-99.99
$7.50 - Order $100-174.99