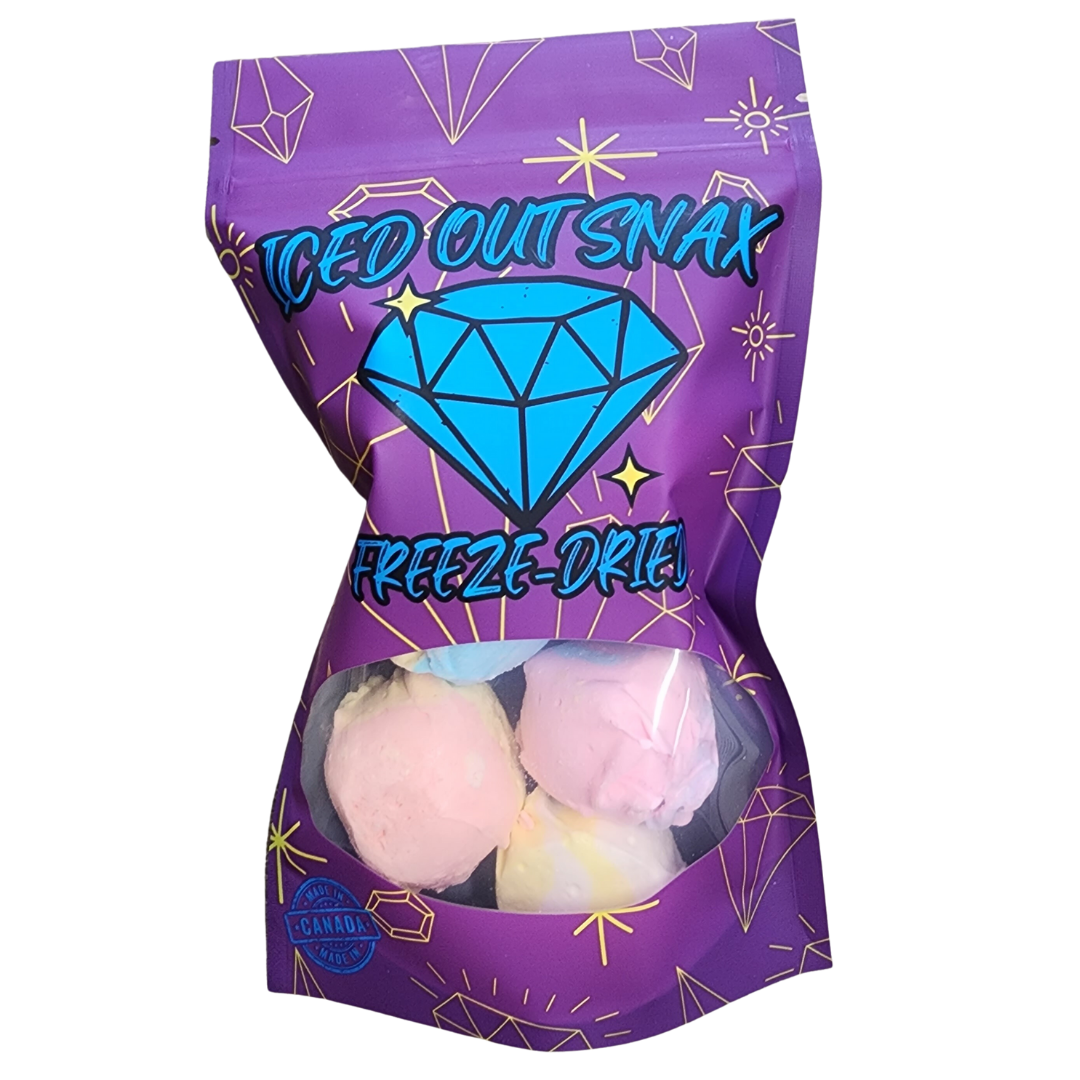 Iced Out Snax - Carnival Mix
---
In stock, ready to ship

Inventory on the way
Step right up and experience the magic of the fairground with Iced Out Snax's Carnival Mix. This one-of-a-kind assortment of Freeze-Dried Salt Water Taffy, featuring lively flavors like Shaved Ice, Cotton Candy, Buttered Popcorn, and Banana Split, is a nostalgic ticket to the vibrant, whimsical world of the carnival, now with a unique crunchy twist.
Every piece of our Carnival Mix is a festive celebration in itself. We've taken the vibrant, playful flavors synonymous with carnivals and transformed them into an exciting, freeze-dried taffy. The result? A heightened, more intense taste coupled with a delightful crunch that's sure to make your taste buds dance.
Imagine the cool, refreshing flavor of Shaved Ice taffy chilling your palate, or the sweet, airy taste of Cotton Candy taffy melting in your mouth. Next, the Buttered Popcorn taffy captures the quintessential carnival experience with its savory, buttery notes, and the Banana Split taffy brings a delightful, creamy balance with its blend of ripe banana, vanilla, chocolate, and strawberry flavors.
Our unique freeze-drying process not only intensifies these flavors but also adds a satisfying, unexpected crunch to the typically chewy taffy. It's a sensory rollercoaster, transporting you back to your happiest carnival memories, one delightful crunch at a time.
Welcome to a delightful, nostalgic fairground adventure with Iced Out Snax's Carnival Mix. It's a vibrant, flavor-packed journey through your sweetest memories, now more exciting than ever. Ready to relive the magic? Step into the world of "Iced Out" snacking today!
To Canada:
Free - Orders over $175
$15 - Order $0-99.99
$7.50 - Order $100-174.99