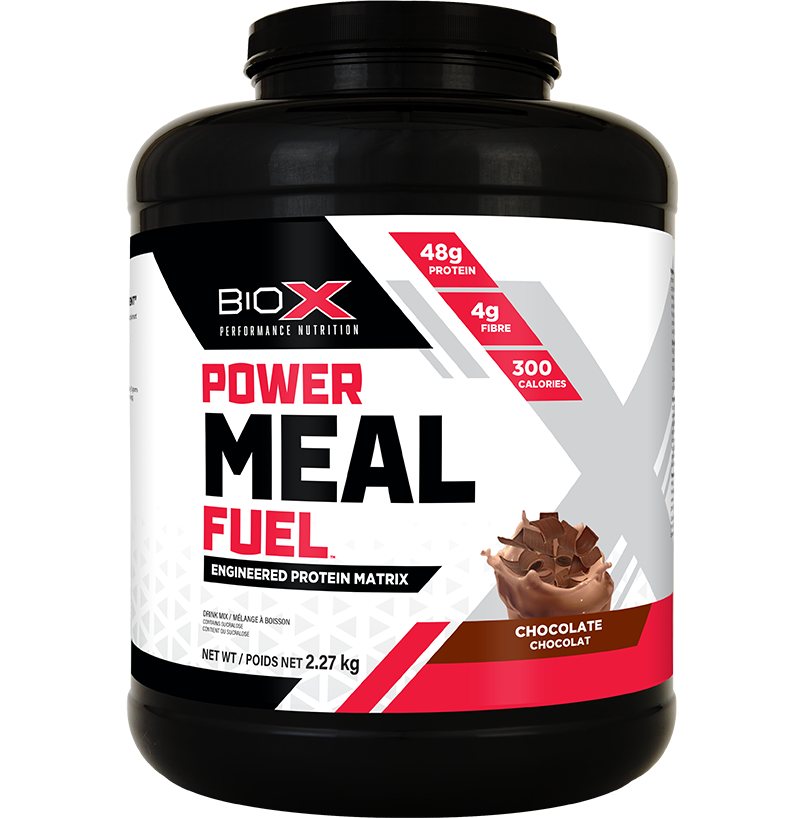 BioX Power Meal Fuel - 2.27kg
---
Low stock - 1 item left

Inventory on the way
SUPREME MEAL SUPPLEMENT FOR EVERYBODY
Delicious Meal Replacement Formula
48 Grams Of Protein
4 Grams Of Fibre
300 Calories
POWER MEAL FUEL includes the best protein ratio to carbohydrates of any meal supplement (over 3 grams of protein for every gram of carbohydrate).
This delicious meal replacement solution contains a whopping 48 grams of Power ProTM (our unique engineered protein matrix derived entirely from whey).
POWER MEAL FUEL provides a moderate amount of energizing low glycemic complex carbohydrates and mixes easily in seconds for a rich, frothy, satisfying shake. No blender or shaker cup is required.
POWER MEAL FUEL contains a high level of naturally occurring Glutamine (approximately 8 grams per serving) and a high level of Branched Chain Amino Acids (over 10 grams per serving). In addition, POWER MEAL FUEL has added fiber from FOS (fructooligosaccharides) and 2 grams of added pharmaceutical grade L-glutamine per serving.
POWER MEAL FUEL is the perfect solution for those on the go or anyone that wants a deliciously satisfying shake without feeling hungry or feeling too full.
Per/Par (72 g)

Alanine
5.60 g
Arginine
2.60 g
Aspartic Acid
10.50 g
Cystine/Cysteine
2.50 g
Glutamic Acid/Glutamine
19.47 g
Glycine
1.90 g
Histidine
2.30 g
Isoleucine
4.90 g
Leucine
10.50 g
Lysine
10.10 g
Methionine
2.00 g
Phenylalanine
3.70 g
Proline
5.40 g
Serine
5.00 g
Threonine
6.30 g
Tryptophan
1.80 g
Tyrosine
3.40 g
Valine
6.00 g
To Canada:
Free - Orders over $175
$15 - Order $0-99.99
$7.50 - Order $100-174.99