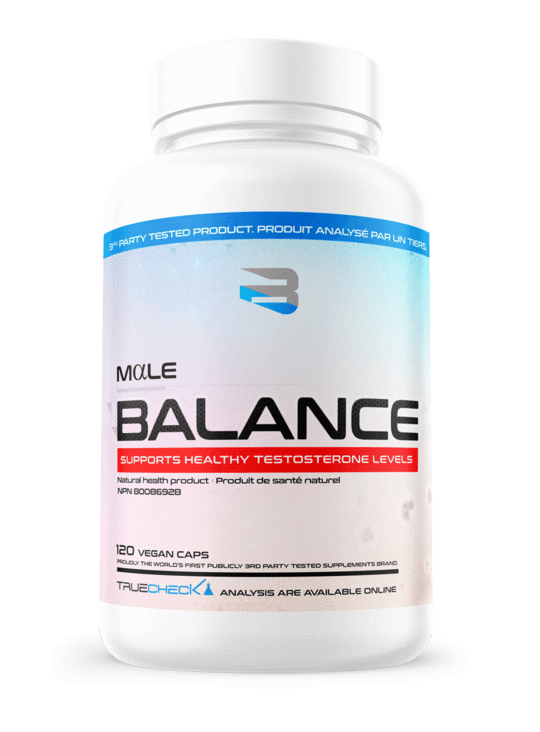 Believe Male+ Balance - 120 Capsules
---
In stock, ready to ship

Inventory on the way
- Increase Libido
- Increase strength & energy
- Reduce body fat and improve body composition
- Delay andropause

Male Balance could be for you if you suffer from one of these symptoms: low sex drive, erectile dysfunction, lower energy levels, and greater fatigue, decreased focus and concentration, depression, moodiness, and insomnia, not to mention a gradual loss of muscle mass and strength, with a greater gain of body fat, despite working out. Male Balance's clinically proven ingredients are going to naturally restore your testosterone to baseline level and even improve beyond!
Is this product right for me
✅ Yes if 
- You want to increase your natural testosterone production
- You want to improve your body composition and lean muscle mass
- You want to easily build muscle
- You want to see an improvement in strength
- You want to see an improvement in your overall mood and energy levels
❌ No if 
- Your testosterone levels are already high
- You are under 18 years old
How to use it
On a daily basis
- Before bed: Take 1 serving (4 capsules) 10-15 mins before bed.
- Use for 1 month then stop for 1 monthIngredients
Servings per bottle: 30x (4 capsules)
Non-Medicinals ingredients: Hypromellose, brown rice flour, leucine, magnesium stearate
- Vegan friendly
- Gluten-Free
- Peanut-Free
- Lactose-Free
- Soy-Free
- Dye-Free
- Sugar-Free
To Canada:
Free - Orders over $175
$15 - Order $0-99.99
$7.50 - Order $100-174.99